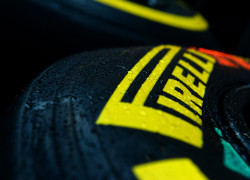 Formula 1 tyre supplier Pirelli has announced the tyre choices for the European Grand Prix which will take place at the Baku City Circuit in Azerbaijan.
Pirelli have chosen the White Medium, Yellow Soft and Red Super soft compound tyres for the race weekend. The medium and the Soft compound tyre must be used during the race and each driver will be required to use at least one of them.
The super soft compound will be available to drivers that make it to Q3 and will have to be handed back after Q3 in accordance with the regulations. Drivers that are not in the top 10 will have the super soft tyre available to them during the race.
Photo by courtesy Pirelli