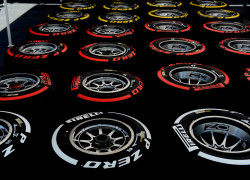 Pirelli have announced that it will remain Formula One's sole tyre supplier till the end of the 2019 season.
The new deal, according to Pirelli, was concluded in the over the winter between the FIA, Pirelli and the teams.
Pirelli put forward changes that needed to be made to the regulations regarding tyre testing. The FIA have agreed to these changes which include:
Tests with 2012, 2013 or 2014-specification cars, using tyres in the current size but with prototype elements (in the constructions or compounds) to prepare for 2017.

A total of 25 days of testing with modified 2015 cars, using prototype tyres in 2017 size: 305/670-13 at the front and 405/670-13 at the rear (for slick tyres).
The testing described in point one is already underway, based on an agreement with the FIA and the teams.
The second type of testing (with tyres in 2017 size) will start during the summer, according to a programme that has been agreed between the FIA and the participating Teams.
Photo by courtesy Pirelli