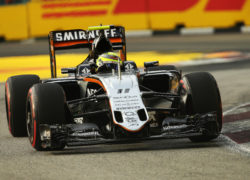 Force India's Sergio Perez was handed a cumulative 8-place grid penalty for two incidents, both for ignoring yellow flags during Q2 for the Singapore Grand Prix at the Marina Bay Street Circuit.
The first incident was when Romain Grosjean crashed his Haas into Turn 9. Perez, who was on a flying lap, failed to slow down for the double waved yellow's that were out in the section of the track. The stewards found that Perez had failed to slow down approaching Turns 9 and 10 and was in breach of Article 2.4.51. (b) of the FIA International Sporting Code.
"The driver of car 11 failed to reduce his speed significantly and be prepared to change direction or stop as required under Art 2.4.5.1(b) when double yellow flags were being waved at both Turns9 and 10," said the stewards in a statement.
"The stewards took into consideration the fact that driver had two corners in which to slow down significantly and failed to do so and both of which were blind corners (including one where the accident had taken place and where the damaged car was still in the barriers) and where the driver would not have known if the track had a hazard wholly or partly blocking the track and/or marshals working on or beside the track"
The Mexican was handed a 5-place grid drop and three penalty points on his super license for the incident.
The second incident was when he passes Esteban Gutierrez under yellow flags after Jenson Button had stopped on track at the end of Q2 at Turn 16.
Perez was handed a further 3-place grid penalty.
After qualifying in 10th Perez will now start from 18th on the grid.
Photo credit: Sahara Force India Formula One Team