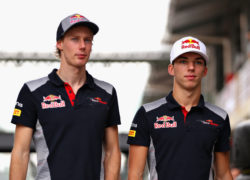 Another race weekend, and we've got more grid penalties. So far none of them feature a McLaren. But it does look like Toro Rosso is getting all the bad luck.
Lance Stroll gets a gearbox change after he came to a halt on track during Free Practice 3 while the rest of the Renault powered guys get penalties for component changes.
Daniel Ricciardo
10-place grid drop – 8th Control Electronics(1st 8th element)
Pierre Gasly
10-place grid drop – 8th MGU-H(1st 8th element)
10-place grid drop – 9th MGU-H(1st 9th element)
5-place grid drop – 7th Turbo Charger.
Brendon Hartley
10-place grid drop – 8th Control Electronics(1st 8th element)
Lance Stroll
5-place grid drop – gearbox change