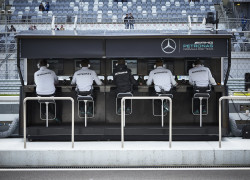 After Lewis Hamilton was forced to retire from qualifying after an MGU-H problem, Executive Director Technical at Mercedes was very apologetic to his fellow Briton.
Hamilton, although making it through to Q3, was unable to take part in the final shoot out after a repeat MGU-H problem saw him retire from qualifying before the end of Q2. This is the same issue, says Hamilton, that forced an engine change at the Chinese Grand Prix.
After qualifying Mercedes Director Toto Wolff called the issue as "bizarre" and that the root cause of the problem will be investigated.
Qualifying for the Russian Grand Prix was building up to another Rosberg-Hamilton pole battle. During Q1 and Q2 Hamilton held somewhat of an edge over his team mate but Rosberg was fighting back and the pair of them were trading fastest times.
"Our day has been tainted by a failure which deprived Lewis of a shot at pole – and deprived the fans of what would surely have been a thrilling climax to an immensely close battle between our two drivers," commented Paddy Lowe
"We've let Lewis down for the second weekend in a row, so our apologies go to him once again," he added
"It's a cruel twist of fate that, out of eight Mercedes-Benz Power Units on the grid, the problem should befall the same driver twice.
"We've been working very hard over the past couple of weeks to understand what happened in China – but unfortunately there is clearly still more work to be done.
Our focus for the immediate future, however, is on making sure Lewis' car is in the best possible condition for tomorrow's race to give him the best chance of making the kind of strong recovery we've seen him pull off so many times in the past."
Photo credit: Mercedes AMG Petronas Formula One Team