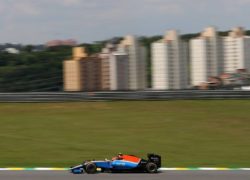 Manor Racing's Esteban Ocon will drop 3 places down the grid after stewards found that he impeded Renault's Jolyon Palmer in Q1.
Palmer, who was on a flying lap at the time, had to run wide at Turn 4 to avoid Ocon. Despite Palmer still making it through to Q2 Ocon was penalized 3-grid spots and 2-penalty points on his super license.
"At the end of the Q1 session, the Driver of Car 31 (Ocon) was on a slow lap having aborted his lap previously, while the Driver of Car 30 (Palmer) was on a fast lap," read the statement by the Stewards in the decision document.
"Entering the braking area of Turn 4 Ocon stayed on the racing line at the moment when Palmer was approaching, forcing Palmer off the racing line.
"At that time, Ocon was on the radio with his team, who did not inform him of the approaching car.
"When Ocon did see Palmer, he moved as far as possible to the right to avoid a dangerous situation, but the Stewards concluded these were not mitigating factors, and that  Ocon clearly impeded Palmer."
Photo credit: Manor Racing Formula One Team