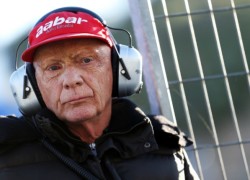 Formula One champion and F1 legend, Niki Lauda, sees no reason why Flavio Briatore should be brought in to increase the popularity of the sport and believes it is already making leaps forward with recent changes.
Following lower numbers of spectators at some circuits and criticism of the sport across this season, Formula One has set up a new working group to work on the popularity of the sport. Flavio Briatore, who was banned from Formula One following the 2008 Crashgate saga, has been named as a possible candidate to head the group. Bernie Ecclestone has however since played down the chances of Briatore getting involved.
Asked whether he thought Flavio Briatore was the man for the job, Lauda said, "No. Why do we need Flavio? I have heard this for the first time, but Bernie is in charge, and he should stay in charge."
Lauda says he trusts in Ecclestone to improve F1 and commented that a recent push to allow drivers to race without excessive penalties is already making the sport better.
"We should think, together with Bernie because he is the master, what we can improve," he said. "I have to say the change that we had with Charlie [Whiting, race director] and the stewards to not get involved as much as before was a great move. [At Hockenheim] even the Sauber in the middle of the road, it was exciting. If there was a safety car then everybody would get bored.
"So Hockenheim was an improvement with 'under investigation', and in Hungary we have seen no problems at all with 'under investigation' because today there were a lot of things that could have been under investigation. It is going in the right direction now."