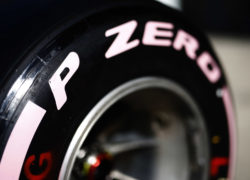 Formula One tyre supplier Pirelli has announced two new tyre compounds for 2018 as well as new colours across the slick tyre range.
From next year Pirelli will add two new compounds to the existing 5 compounds the already have. Enter the super-hard compound and hypersoft compound.
The 2018 tyres, Pirelli say, are a step softer. The previous orange marked hard tyre will now be marked ice blue, while the super hard will be marked in orange indicating the hardest compound available.
A new pink marked hypersoft will be introduced following a social media campaign to name the new compound.
This brings us to a total of 7 slick compounds and the two wet weather tyre compounds.
Pirelli say that the 2018 tyres have been redesigned and the working ranges for each compound have been revised. These two new compounds will allow teams greater flexibility in choosing tyres for each race.
Mario Isola, Head of Car Racing at Pirelli: "Compared to this year, when the tyres grew by 25% to fit a brand-new generation of cars, the changes for next year are less far-reaching.
"However, we're pleased to present some important innovations with softer and faster compounds across the range: including the new hypersoft.
"We realised that, under the unique circumstances of this year, some of our 2017 compounds were perhaps conservative: the tyres we have created for 2018 addresses this, in line with the objective of having around two pit stops at most races.
"However, the fundamental design concept of the tyres hasn't changed next year, preserving the attributes that all drivers have appreciated this year and allowing them to push hard from the start to the finish of each stint.
"The new range consists of faster tyres that should lead to even harder and more spectacular racing in 2018."