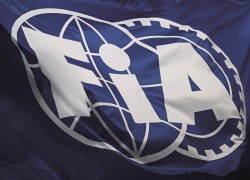 The F1 Commission and the F1 Strategy Group met today (25 April 2017) in Paris to discuss technical and sporting changes to F1. The meeting, was for the first time, attended by the CEO of the Formula One Group, Chase Carey.
The sporting and technical changes have all been agreed to and will now go to the World Motorsport Council to be approved.
After running the proposed Halo head protection last season during some of the practice sessions it seems as thought the FIA has now abandoned the idea of the halo and will now focus their energies, together with the teams, in testing the a new "shield" type solution. The FIA hopes to test this new solution during the season for it to be rolled out in time for the 2018 Formula 1 season.
Future designs for the shark fins and T-wings will be limited going forward.
"Changes in the regulation boxes around the engine cover have been made so that designs incorporating the 't-wing' and 'shark fin' will be strictly limited," said the FIA in a statement.
The topic of burning oil has been a contentious issue recently with some teams convinced that Mercedes have been using this technique especially during qualifying to get more power out of their engines. Regulations will now be tightened up and teams will only be allowed one specification of oil for an entire Grand Prix weekend.
Another proposed change is the restart procedure after a red flag during the race. Currently drivers will line up on the grid or in the pit lane during a red flag period. Once the track has been cleared the field gets underway behind the safety car. The new procedure will be to line up on the grid for a standing start.
The final sporting change was that tyre supplier Pirelli will be able to test the 2018 wet weather tyre compounds using the previous specifications of cars and wheel dimensions.
From the Spanish Grand Prix the FIA will enforce the rules regarding the visibility of driver names and numbers.
Finally, F1 Strategy Group meetings will be opened to non-member teams to enable them access to the discussions. This, the FIA says, demonstrates the effective commitment of both the FIA and the Commercial Rights Holder to improve transparency in the sport.