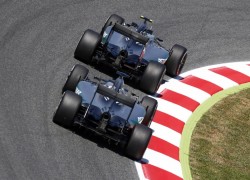 The Mercedes F1 team has spent its remaining seven engine development tokens ahead of the Italian Grand Prix. Lewis Hamilton and Nico Rosberg will start in Monza with their third power units of the season.
All four engine manufacturers started the season with the engine development tokens they had not used during the winter break. The massive advantage Mercedes has shown over other teams has allowed the team to save all seven engine development tokens it had at the start of the season. Ferrari and Honda spent their first engine development tokens ahead of the Canadian Grand Prix.
While others have used their engine development tokens to improve their performance this season, Mercedes has confirmed that the upgraded power units are not just 'Monza-spec' engines and says their seven tokens have been spent "tactically" to aid with development of the 2016 power unit. The team hopes to learn about fuel efficiency, unlock more performance and improve on reliability for the 2016 Formula One season.
Photo Credit: Mercedes AMG Petronas