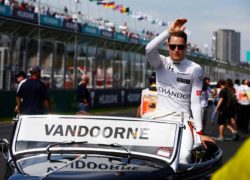 The McLaren Formula One Team confirmed that they will retain the services of Stoffel Vandoorne for the 2018 season.
Vandoorne was signed by McLaren in 2013 into their Young driver program. In 2016 he subbed in for Fernando Alonso after his crash put him out for a few races at the beginning of the 2016 season. He went on to score McLaren's first points for the 2016 season.
There was no doubt about Vandoorne's future at Woking, the news confirms that he is on a multi-year deal.
"I'm delighted that the team has now formally announced that I will continue to race for them next year, because I'll be able to approach the second half of my rookie season with total focus on the job in hand: namely getting the very most I can out of my car, my engineers, and everything and everyone around me," said Vandoorne.
"I've already learned such a huge amount in the first half of my first season in Formula 1 – from my engineers, from my mechanics, from Eric [Boullier], from Zak [Brown] and from Jonathan [Neale], and also from Fernando [Alonso], who is a brilliant driver and also an excellent team-mate.
"Last but not least, I want to say thank you to McLaren's partners and fans for their loyalty and enthusiasm – they are the best in the business – and also to McLaren's Executive Committee Principals, [Shaikh] Mohammed and Mansour [Ojjeh], who continue to put their faith in me."
Racing Director Eric Boullier said:
"When we announced at the end of 2016 that Stoffel would be a McLaren Honda race driver for 2017, we indicated that our plan was that he'd race for us for a number of years.
"That plan hasn't changed, and I'm very happy therefore to be able to confirm that he'll continue to race for us next season.
"Like all rookies, he's had to learn a lot in the first half of his first Formula 1 season, but we have great confidence in him, and he's getting better and better all the time.
"His team-mate is a tough opponent – that's an understatement in fact, because he's arguably the best driver in the sport today – but Stoffel's robust talent and fierce ambition make us sure that he'll achieve great successes with us in the future."
There is still no word from McLaren on Alonso's future at the team. All indications are that he is likely to remain at McLaren for 2018. A clearer picture will start to emerge as teams confirm their driver line-ups for 2018.