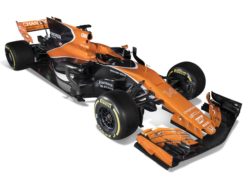 After many weeks of dropping hints and excitement building the McLaren MCL32 finally broke cover today at a launch event at it's Woking headquarters.
The car launch was streamed online with journalists and special golden ticket winners invited to attend the launch.
McLaren have been building up the excitement over the past few weeks tweeting pictures of past McLaren cars featuring the orange colour scheme. The car was finally revealed today with a dynamic orange and black color scheme.
The origin of McLaren meets our future. Presenting the McLaren-Honda #MCL32, a blend of past & present in our new livery. #ChangeYourGamepic.twitter.com/UfXRCI15FH

— McLaren (@McLarenF1) February 24, 2017
Racing Director Eric Boullier
"Within McLaren-Honda, there's a tangible feeling of progress, of change.
"This year's rules reset is a valuable opportunity for us – it will allow us to make progress with what we feel is a well ordered and clearly defined chassis-engine package, and hopefully to narrow the delta between us and the front-running teams.
"The chassis is incredibly well realised, the power unit has been significantly developed and, in Fernando and Stoffel, we have a hugely exciting driver pairing that's already blending really well."
A highly motivated Zak Brown is looking forward to his first season in Formula 1 with the new car.
"McLaren has always been the team in Formula 1 for me, and I'm massively motivated to be able to help re-establish the team where I firmly believe it belongs: at the very pinnacle of Formula 1," said the Executive Director.
Chief Operating Officer Jonathan Neal is under no illusions about the enormity of the challenge that lays ahead in 2017 and feels that McLaren can make some great strides in improving their overall package this year.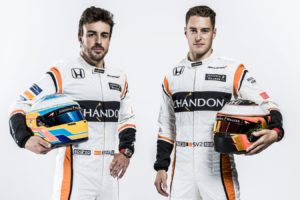 "It has been a challenging winter for us as a leadership team, but there's a great sense of purpose and enthusiasm throughout the business this year, and that applies not only to the McLaren Technology Group but also to our power unit partner Honda.
"Together, we've assembled a formidably capable team, but we still have work to do in order to fulfil our true potential.
"Together with our staff, the Board of Directors, and with the guidance and support of our Executive Committee Principals, we're working extremely hard as we continue to put the essential elements of future success in place.
"The journey ahead isn't going to be easy, and I've emphasised that to everyone. We've made progress in the past 12 months, but we're not where we need to be and we expect on-track competition to be fierce.
"To win in Formula 1 requires any competitor to be good at everything. Thoughtful but relentless pursuit of excellence is required.
"So, do I believe we'll be back at the front this year? Realistically, probably not quite yet, no. But do I think we'll continue to make meaningful improvement as a team? Absolutely. And that's our aim: to make progress by establishing the proper and correct, if sometimes difficult, changes that are needed to go forward.
"We can't predict where that will leave us – particularly on the eve of a new season of regulatory upheaval and uncertainty – but as a team we have many talented and driven individuals and we're restless about continuing to do whatever is needed to make us competitive."