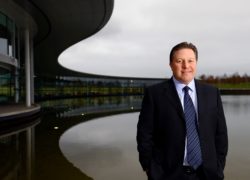 McLaren has announced that Zak Brown will be appointed as Executive Director at McLaren Technology Group starting next month.
Brown will report to McLaren Technology Group's Executive Committee and together with Chief Operating Officer, Johnathan Neale will lead the business as the Group transitions into a stronger organisational structure. In the mean time, the search for a new Chief Executive will continue.
This announcement comes after Ron Dennis was forced on to gardening leave to see out the remainder of his contract with McLaren.
"I'm immensely proud to be joining McLaren Technology Group. I have the utmost respect and admiration for what the business has achieved to date, and I look forward to contributing to the next important phase in its development," said Brown on his appointment.
"Having worked closely with McLaren for many years, I've been struck by the talent and ambition of the entire workforce, and I very much look forward to complementing the business's many existing strengths, and building on them to drive future success in everything we do," he added.
"As founder of Just Marketing International (JMI) – now the world's largest motorsport marketing agency – I've often worked closely with McLaren as I say, and I've developed some excellent relationships across the company.
"Together we've delivered some great sponsorship deals, including Johnnie Walker, GSK, Hilton, Lenovo, Chandon and NTT.
"Best of all, in my new role I'll be able to combine my absolute passion with my unparalleled area of expertise – respectively motorsport and marketing – while ensuring that the two stay totally aligned."