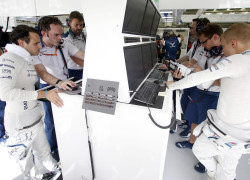 The Williams F1 Team have confirmed that both Felipe Massa and Valtteri Bottas will remain at the team till the end of 2016.
The announcement was made on twitter by both the drivers in a video.
Earlier in the year, Valtteri Bottas was linked with a move to Ferrari if Kimi Raikkonen's contract was not renewed. In a very early move, Ferrari announced that Kimi Raikkonen will stay on at Ferrari for another year. This effectively closed the door on Bottas' move to the Maranello based team.
Massa was expected to remain at the Grove based team for another year but Bottas' future was up in the air for a short while until today.
Speaking after the announcement, Massa had this to say: "I am very happy to be a part of the Williams family. I am in my second year here and am so pleased to be staying as we are working very well together as a team.
"They respect me a lot and the results are there, and it has been so nice to be part of the big turnaround the team has seen since the end of 2013."
"I can't wait to carry on and continue pushing even more for the team, and for myself."
"Thank you to Frank, Claire, Mike, Pat and the whole Williams team for their ongoing support and belief in me, as we build on what is already a great relationship."
"I am really pleased to be staying with the team for a fourth F1 race season," said Bottas.
"We have been getting stronger as a team and I look forward to what next year will bring, as I believe we can achieve even stronger results than what we have seen so far.
"I can't wait for 2016, however I am still fully focused on this season as we still have plenty of challenges to achieve.
" I must thank Frank, Claire, Mike, the Board, and everyone at Williams for their continued trust in me."
.@MassaFelipe19 & @ValtteriBottas would like to make an announcement… #WeAreRacing https://t.co/5CpUVZd7P2

— WILLIAMS RACING (@WilliamsRacing) September 3, 2015
Photo Credit: Williams Martini Racing Formula One Team