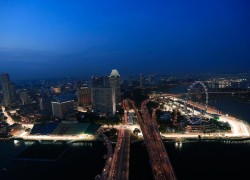 The Marina Bay Circuit in Singapore has had a few modifications made to the layout ahead of the Singapore Grand Prix that takes place in between the 18-20 September.
Changes have been made between Turn 11 and Turn 13. These changes were approved by the FIA and the promoters of the Singapore Grand Prix.
The modifications to the circuit come after enhancement works by the Singapore Urban Redevelopment Authority to Singapore's Civic District which tie in with the state's 50th anniversary of independence(See circuit map).
The right handed T11 will remain, but will kink a little to the left before turning right to exit on the left of Fullerton Road. Turn 12 will remain a left hander but it is opened up a bit to allow for a more faster entry on the left lane of Anderson Bridge.
Turn 13 remains largely unchanged, the only change will the the widening of the exit by 1 meter to allow for more overtaking.
"It's a win-win situation that the development of the new arts, culture and lifestyle precinct will provide an upgraded experience, but also potentially make for closer racing at this year's Singapore Grand Prix," said Colin Syn, the Deputy Chairman of Singapore GP Pte Ltd.
"We take pride in ensuring our event is one of the best on the calendar, and this will only add to the excitement, on top of the off-track entertainment planned for September 18 to 20"