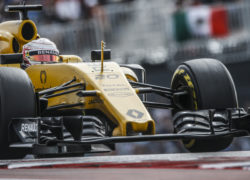 Renault's Kevin Magnussen was handed a 5-second time penalty for his pass on Toro Rosso's Daniil Kvyat at Turn 12 at the United States Grand Prix.
Magnussen who was fighting Kvyat for 11th in the race passed Kvyat into T12 after the long back straight at the Circuit of the Americas.
The Dane went deep on the brakes and ran wide at the exit of T12 and rejoined the track ahead of Kvyat.
The stewards ruled that Magnussen gained an advantage and handed down the time penalty and 2 penalty points on his super licence.
"Car 20 left the track in turn 12, gaining a lasting advantage," said the stewards in the penalty decision document.
The penalty meant that Magnussen, although finishing 11th, dropped down to 12th promoting Kvyat to 11th.
Massa-Alonso Incident
Felipe Massa and Fernando Alonso were summoned to the stewards after the race after Alonso passed Massa at T15 with a dive down the inside making contact with the front left wheel of the Williams. Massa picked up a puncture and was forced to pit. The Brazilian finished the race in 7th with Alonso going on to pass Carlos Sainz in the Toro Rosso to finish 5th.
Alonso felt that the move was fair. Massa, however, felt that his race was compromised after that.
The stewards ruled that no further action should be taken and neither driver incurred any penalty.
Unsafe Release for Raikkonen
Ferrari were fined €5000 for the unsafe release of Kimi Raikkonen on lap 38 after the right rear wheel was not properly fastened.
At first glance the pit stop looked like a routine stop for Raikkonen until he came to a stop at the exit of the pit lane. Because of the incline to Turn 1, Raikkonen was able to release the brake and roll the car back to the pit lane. He parked his car off to the side in the pit lane and he got out of his car ending his race.
Photo credit: Renault Sport Formula One Team