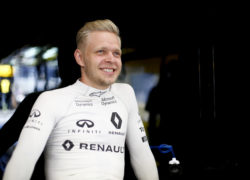 Renault's Kevin Magnussen feels that he will be okay to race in Monza following his huge crash at Turn 4 at the Belgian Grand Prix at Spa-Francorchamps.
Magnussen had a snap of over-steer coming out of the high speed Eau-Rouge/Raidilion (Turn 4) complex of corners after riding over the kerbs which sent his car careening for the barriers on the outside of Raidilion. Magnussen hit the barriers side on sending his head rest protection flying off the car. The FIA computers logged a 12.5G impact with the tyre wall.
The Dane climbed out of the car and limped to the medical car. He was taken to the track medical centre and was then taken to a nearby hospital after it was found he sustained a cut on his ankle.
Renault team Principal Fred Vassuer gave an update on Magnussen's condition after the race. He was very relived that Magnussen was fine.
"He was able to leave the car unaided and was taken to the medical centre as a precaution," said Vasseur
"He was responsive throughout but had a cut on his ankle that required some further checks so was taken to hospital in Verviers."
A few hours later Magnussen tweeted a picture of himself thanking everyone for their support messages.
"Thanks for all your messages folks!" read the tweet.
"On my way home now with a sore ankle but will be ready for Monza"
Thanks for all your messages folks! On my way home now with a sore ankle but will be ready for Monza 👍🏻👍🏻 pic.twitter.com/7CH5DttYpw

— Kevin Magnussen (@KevinMagnussen) August 28, 2016
Photo credit: Renault Sport Formula One Team