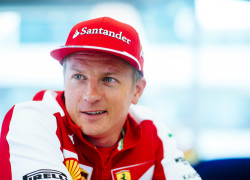 The second and final in-season F1 test took place at Silverstone this week following the British Grand Prix this past weekend.
Kimi Raikkonen ruled the roost, topping the combined time sheets with a time of 1:30.665 on Pirelli's soft tyres. His time was half a second clear of the young Esteban Ocon who put in the most mileage in the Mercedes W07 Hybrid.
Red Bull's young driver, Pierre Gasly took the third spot in his RB12, ahead of Force India's development driver Nikita Mazepin who spent both days in the VJM09.
Fifth fastest was McLaren's Stoffel Vandoorne who finished ahead of Williams' Valterri Bottas and Santino Ferrucci who was testing for the Haas F1 team.
Joylen Palmer clocked the eighth fastest F1 test time for Renault ahead of Toro Rosso's Sergio Sette Camara and young Alex Lynn who rounded out the Top 10 times in the second Williams.
Combined timesheets for the Silvertsone F1 test:
Kimi Raikkonen (Ferrari) 1:30.665 Softs
Esteban Ocon (Mercedes) 1:31.212 Softs
Fernando Alonso (McLaren) 1:31.290 Super Softs
Pierre Gasly (Red Bull) 1:31.429 Softs
Nikita Mazepin (Force India) 1:31.561 Super Softs
Stoffel Vandoorne (McLaren) 1:31.764 Super Softs
Valtteri Bottas (Williams) 1:32.423 Softs
Santino Ferrucci (Haas) 1:33.141 Softs
Jolyon Palmer (Renault) 1:33.308 Hard tyres
Sérgio Sette Camara (Toro Rosso) 1:34.040 Softs
Alex Lynn (Williams 1:34.433 Mediums
Charles Leclerc (Ferrari) 1:34.446 Mediums
Carlos Sainz Jr. (Toro Rosso) 1:34.643 Mediums
Jordan King (Manor) 1:35.060 Softs
Rio Haryanto (Manor) 1:35.631 Softs
Sergey Sirotkin (Renault) 1:36.575 Hard tyres
Pascal Wehrlein also took part in the F1 test, but he drove a 2014-spec Mercedes to test the 2017 prototype 2017 tyre elements for Pirelli. The Sauber F1 team did not take part in the test at all.
All seven of Pirelli's compounds were used over the two days of running with mixed weather conditions at the Silverstone circuit playing a major part in the F1 test.
Here are the best lap times on each tyre compound, as well as the longest stints completed on each.
Best lap times:
Wet: Esteban Ocon 1:51.264
Intermediate: Kimi Raikkonen 1:45.828
Hard: Jolyon Palmer 1:33.308
Medium: Kimi Raikkonen 1:32.730
Soft: Kimi Raikkonen 1:30.665
Super Soft: Fernando Alonso 1:31.290
Ultra Soft: Nikita Mazepin 1:32.075
Longest stints:
Wet: Fernando Alonso 11 laps
Intermediate: Fernando Alonso 17 laps
Hard: Jolyon Palmer 9 laps
Medium: Esteban Ocon 21 laps
Soft: Esteban Ocon 14 laps
Super Soft: Nikita Mazepin 4 laps
Ultra Soft: Nikita Mazepin 4 laps