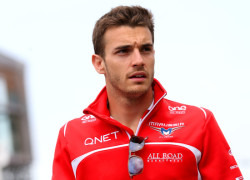 Philippe Bianchi, father of Jules Bianchi, has provided an update on Jules' current medical situation, as well as voiced his anger around the FIA investigation which blames his son for the horror crash at the 2014 Japanese Grand Prix.
The 25-year old Bianchi remains in a coma in Nice more than six months after that terrible day at Suzuka. His father agreed to an interview with a local Nice newspaper "out of respect for all the people who continue to send Jules their beautiful wishes, encouragement and affection every day".
He did however admit that there is very little to report about Jules' progress medically.
"The only thing we can say is that he fights with force and with the same strength that he has always fought with, before and after the accident," Bianchi told the local Nice-Matin newspaper.
"Every day, Jules does a marathon. From a medical point of view, his condition is stable. He is fairly autonomous — no physical problems.
"All of his organs are working without assistance. But for now, he remains unconscious."
When asked whether neurosurgeons are seeing any improvement in Bianchi's brain state, he admitted that this is something that will take a very long time, "For this kind of trauma, we know the evolution is very slow," he said.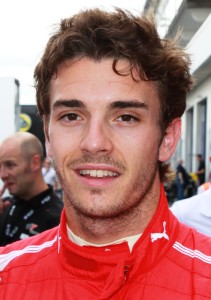 "But compared to what the Japanese professor who operated on him told us, it is already night and day. There, when we arrived to see Jules, there was no hope. There was talk of irreversible damage.
"It was said he could not be transferred before one year, but it was done after seven weeks, as Jules quickly began to breathe again on his own.
"Now, the doctors tell us there is no specific intervention they can do. Most important is to stimulate Jules so that he feels a constant presence at his side.
"So we take turns every day — his mother, his sister, his brother and me. He also has his German girlfriend, Gina, who lives here now," Philippe told Nice-Matin.
"From time to time, at his bedside, we see that things are happening. Sometimes he is more active, he moves more, squeezes our hand, but is it mere reflex or is it real?
"Hard to know," Mr Bianchi said.
He said it continues to be a terrible time within the Bianchi family, a "daily torture".
"Our universe collapsed on 5 October 2014. The questions that no one can answer now: will he make it? If so, will he be disabled or can he live normally? I think that in this type of accident, it hits harder than a death. The suffering is relentless. A daily torture," Bianchi explained.
"To those people who think of him, I want to thank each one and tell them that we will give news when there is any, good or bad."
When asked about the FIA investigation which placed blame on Jules Bianchi for the horror crash, Philippe was furious.
"It was an internal investigation," he abruptly replied. "Only those who were involved were engaged.
"Regarding this, I have nothing new to say," Mr Bianchi continued. "Very good people are involved now to defend the interests of Jules.
"If someone is responsible some day, he will have to pay. Frankly, I'm too upset to talk about it. I prefer to focus my energy on Jules now".
Our thoughts remain with Jules Bianchi, his father Phillipe and his family, friends and fellow race drivers. Keep fighting, young man! #ForzaJules