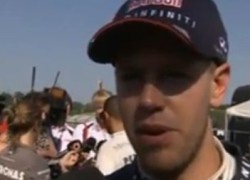 I hate to lose and I hate it even more if I lose and people can put me in my place about it.
To top it all off – I'm actually the one who started this. With this being my usual post-race F1 column, everything expressed here is my own opinion. This however started on my personal Facebook profile on Thursday night where after three weeks of no F1, I was very much looking forward to the race and a win for Sebastian Vettel.
It was probably a good thing that I didn't bet any money on the race, however it would've been a safe bet if I predicted which of my colleagues and friends would be the first to remind me of how over-optimistic I was. However, while sitting and licking my wounds, I did indeed start thinking of how interesting this current F1 season still can become.
Here are the facts: Red Bull has looked fairly indestructible in recent times. Between them and Lotus they made the tyre issues look like a little niggle.
Remember however, at Silverstone the Gearbox on Vettel's car packed up and at Budapest it was KERS.
Meanwhile Pirelli brought along some new tyres and teams now had their fair share of legal and illegal tyre tests.
Now let's add the drivers here. No one really knows what goes on in the mind of Iceman Kimi Raikkonen although I'll bet his mind is set on winning races rather than crying over a salary.
Ever since he announced his retirement Mark Webber has been looking like a new man and one on a mission to leave a legacy. Looking past his penalty, Romain Grosjean has started living up to the potential we always knew he had. Nico Rosberg secured two wins in the first part of the season and has really become a driver that just looks more like believing that he can win a title. Then there's Lewis Hamilton, newly single and just looking all that more motivated.
Vettel is still in the lead of the championship, but the road to winning four consecutive titles is not an easy one and it's not a sure bet. At the end of the race we all heard him saying "Sorry guys, I did all I could" and in all honesty… he did.
Hungary 2013 was a GP in which all the key contenders did all they could. There's still a lot that can happen this year and the championship may well again carry on until the last lap at Interlagos.
Hungary taught Vettel to be humble, it taught me not to pre-write headlines, but more so – I hope it taught all the those who constantly write off F1 as a boring sport that there's nothing like a foregone conclusion in the fastest sport in the world.
Reynard Gelderblom is the motorsport editor for Street Motion.
Keep up to date with the latest local motorsport news by following Street Motion on Twitter.