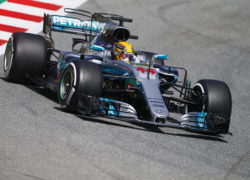 Lewis Hamilton secured his 64th career pole position for the Spanish Grand Prix on Saturday just narrowly beating Ferrari's Sebastian Vettel.
Hamilton, in the Mercedes, set his best Q3 and pole time of 1:19.149 on his first run in Q3. This was enough to get him pole over Vettel by just 0.051s.
Vettel who improved on his second run in Q3 improved his times and was up on Hamilton until the final sector where he lost about 0.5s to the Brit. The final chicane has been irksome to Vettel over the years and it seemed to be the difference between pole position and second place.
Vettel made his feelings known over team radio after being told he was P2. "Ah I f**ked up the chicane!" exclaimed Vettel over the radio. "Sorry guys. I had him. I had it. The last chicane. I missed the apex at T14 all weekend. Sorry guys".
Vettel almost did not take part in chicane after he was told to stop the car on his out lap during Q1. Vettel asked his engineer if he was sure if he should stop and carried on. By the end of the lap it looked like what ever gremlins were in the Ferrari were gone and Vettel got on with it.
Valtteri Bottas did his best on an engine way past it's use-cycle and got 3rd fastest just 0.224s off Hamilton and just 0.066s clear of Kimi Raikkonen.
Raikkonen looked quick after FP3 and on his final run in Q3 looked like he could pull an upset, but he lost time in sector and and sector three and his time was good enough for 4th.
Red Bull finished qualifying in the same positions they ended P3 in with Max Verstappen leading Daniel Ricciardo. Ricciardo struggled through the session and was consistently slower than Verstappen. The updates brought by Red Bull to the RB13 suggest that they've gained one second a lap compared to where they were in the first 4 races of this season. Both the drivers have said that they could feel the speed of the car was quicker.
Fernando Alonso pulled off a stunner of a lap to place his McLaren MCL32 in 7th place in front of his home crowd. His disappointing start to the weekend seems like a distant memory after today's performance which the Spaniard called a gift.
Go onboard with @alo_oficial as he slides his McLaren into an impressive 7th place on Sunday's #SpanishGP grid pic.twitter.com/rGWM4Cdwkx

— Formula 1 (@F1) May 13, 2017
Force India's Sergio Perez and Esteban Ocon once again made the top 10 and qualified 8th and 10th respectively and was split by Williams' Felipe Massa.
Ferrari seems confident that they have the race pace to fight with Mercedes. The run to Turn 1 is quite long. A good slip stream and good grip around the outside of Turn 1 will place you in a good position for Turn 2 which follows right after. The driver arriving first at T1 will have to place his car in just the right spot to defend his place. It's still all to play for in the race.
PROVISIONAL CLASSIFICATION: END OF QUALIFYING

64th pole for @LewisHamilton 👏

250th by a British driver 🇬🇧#SpanishGP pic.twitter.com/abXVflwS8n

— Formula 1 (@F1) May 13, 2017
Photo credit: Mercedes AMG Petronas Formula One Team