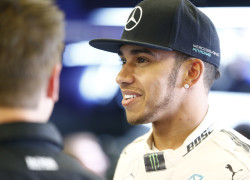 After months of speculation and delays, the Mercedes Formula 1 Team announced on Wednesday that World Champion Lewis Hamilton has signed a new three year deal with the Silver Arrows that will see him stay on till 2018.
Hamilton moved to Mercedes in 2013, and in 2014 took victory 11 times on his way to his 2nd World Champion title and his first with Mercedes. He is currently leading the championship ahead of championship rival and team mate, Nico Rosberg.
"Mercedes is my home and I couldn't be happier to be staying here for another three years," said Hamilton.
"This is a company filled with real passionate racers, from the board room to the factory floor, and an incredible hunger to win," he added.
"Even after the success of last year, that hunger is greater than ever – and it's the same for me, too.
"The Mercedes car I am driving right now is the best I have ever had in my career; it's just so much fun to be out there every weekend, on the limit and fighting to win at every track."
Head of Mercedes-Benz Motorsport Toto Wolff continued: "Continuity is one of the key factors for delivering success in Formula One and we now have that in place.
"Lewis enjoyed an historic World Championship season with Mercedes-Benz last year and it was a priority for this season to renew his contract for the next term.
"We have taken the right amount of time with the process and not rushed ourselves. The result is a strong agreement that will enhance Lewis' association with the Mercedes-Benz brand, and that recognizes and respects the market value of Lewis and of Mercedes in Formula One.
"Lewis' sporting track record speaks for itself and he is a great personality for the company. Personally, I am looking forward to continuing to race with the strongest driver pairing in Formula One and to more historic achievements together."