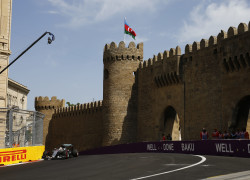 Lewis Hamilton has taken the blame for his poor showing in Qualifying for the European Grand Prix at the Baku City Circuit in Azerbaijan.
Hamilton ended qualifying in 10th after hitting that barrier wall at the tight Turn 12. Hamilton's qualifying sessions were not as clean and clear cut as one would usually expect from the three time world champion. Mistakes in Q2 almost got him eliminated and with yellow flags coming out at all the wrong times it seemed as though he would not make it to Q3. But Hamilton used the superior pace of the Mercedes to take him to 2nd fastest in Q2 comfortably promoting him to Q3.
During Q3 it looked like he just was not getting a good rhythm going. He was seen locking up and running wide and taking to escape roads at some corners. Then with just a little over 2 minutes left in Q3 it came to an end for the Briton when he clipped the barrier at Turn 12 which broke the steering arm on his car.
"It's a fine line between being on it and not being on it – and I just wasn't on it today," he said after qualifying.
"I had a fantastic rhythm yesterday but none whatsoever today.
"There's no specific answer or excuse. I wasn' t hitting the right apexes or the right braking zones… it was just one of those sessions.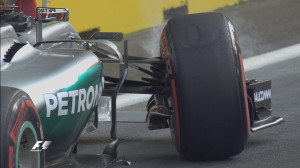 "Sometimes it happens. It was my fault, so I'l l apologise to the team and try to make up for it tomorrow.
"It's always difficult to come back from this kind of position so it'll be damage limitation tomorrow.
"I highly doubt I can challenge for the win – but I'll give it my best shot and try to bring home as many points as I can.
"The car is good here and we've got more pace than most of the others. I've just got to make my way through any tangles at the first corner and see where I go from there."
If Hamilton hopes to stand any chance at a high points finish or even a podium he will have to stay well clear of trouble. Starting from 10th on the grid will be a tough ask if the GP2 race was anything to go by where there was chaos at Turn 1.
With no previous race data to go on there is still a high possibility of a safety car owing to the nature of the track with it being a street circuit.
One thing is quite certain. It's going to be an unpredictable inaugural European Grand Prix in Baku.
Photo credit: Mercedes AMG Petronas Formula One Team