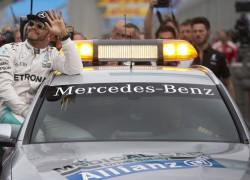 Lewis Hamilton secured pole position for the Australian Grand Prix in the debut of Formula One's new elimination style qualifying format which has been widely criticised and can be described as nothing short of farcical.
Hamilton finished 0.360s clear of his Mercedes team mate Nico Rosberg, but the session was decided and all drivers out of their cars with over three minutes left on the clock. There was not a single car on the track for the final 5 minutes of the session and drivers were walking down the pit lane to get weighed in while there was still time left in the session.
There was no frantic final shootout, no final flurry of lap times, nobody rushing for the line to secure their positions on the grid. Just driver after driver accepting their fate and leaving the final minutes of qualifying to the two Mercedes drivers to decide which of them would start ahead of the other.
The live elimination format also failed to deliver on the mixed up grid that F1's decision makers had hoped for and pretty much castrated Q3 of the first qualifying session of the 2016 Formula One season.
Ferrari, who should've been shooting it out at the front with the Mercs opted to complete just one run in what seemed to be a bid to save tyres for the race. The gap between Hamilton on pole and Sebastian Vettel who finished third on the grid stood at 0.838s with Kimi Raikkonen finishing fourth place – 1.196s off Hamilton's time.
Vettel said he couldn't see why everyone was surprised. "We all said what is going to happen. It happened," he said.
"We were told to wait and see. Now we saw and I don't think it was very exciting.
"It was a bit crazy in the beginning with all the cars pushing and trying to do a lap before they get kicked out so managing traffic is busy but for no reason because the time is there in the session to do it.
"For the people in the grandstands, I don't feel it is right way to go as there are no cars to watch. They want to see Lewis, Nico, Kimi whoever pushing to limit at the end of the session when the track is supposed to be at its best.
"I don't think we need the criticism now, we had the criticism already but surely it is wrong way to go. That is what we said."
Max Verstappen secured his best qualifying result finishing fifth on the grid for Toro Rosso after a single Q3 attempt, ahead of Felipe Massa, Carlos Sainz Jr. and Daniel Ricciardo.
The new rules resulted in the bottom three in Q3 limited to just one lap before the clock caught up with them and they were knocked out. The top eight will all start the race on the super-soft tyres they used to set their fastest time in Q2.
The majority of the action in qualifying came from the opening stages of each session with the flurry of confusion and excitement in Q1 setting everyone up extreme anticlimactic disappointment. What should have been a thrilling introduction to the 2016 Formula One season – especially after the exciting build-up in FP3 – ended up an absolute disaster, or as Mercedes team boss Toto Wolff called it, "rubbish".
Sergio Perez and Nico Hulkenberg were 9th and 10th respectively and opted to return to the pits rather than attempt another lap and get themselves through to Q3. Valterri Bottas' minor error at the final corner without enough time to finish another lap (instead of only being required to make it over the line to start another one) saw him finish in 11th place.
McLaren had impressed in FP3 and there were great expectations that we would see at least one of the two Woking machines in Q3, but seemed to have been caught out by the new format with Fernando Alonso and Jenson Button also being caught out by the 90 second clock and finishing 12th and 13th on the grid.
Renault made it through to Q2 albeit significantly off the pace. Joylon Palmer and Kevin Magnussen could only manage 14th and 15th respectively.
The absolute confusion of the Q1 session saw Daniil Kvyat being knocked out while he was in the pits and missing the cut for Q2 along with the Sauber, Haas and Manor drivers.
The FIA are clearly going to have to rethink the introduction of this format. The majority of the drivers have come out saying that the new qualifying format does not work and team principals are not impressed either.
It's important to reminder that these are the folks who voted this new qualifying format in but it would seem they're ready to eat the humble pie and call for change.
Red Bull team boss Christian Horner believes the sport needs to apologise to Formula 1 fans and called for the new qualifing format to be scrapped immediately.
"It didn't really work for me," Horner said. "We have not really put on a show.
"To have Sebastian Vettel and Kimi Raikkonen in fast cars not taking part with five minutes to go is wrong.
"We need to learn from it and address it quickly. I think it needs to be done for Bahrain, personally."
Niki Lauda also came out saying that the new qualifying format was "terrible" and added that Bernie Ecclestone and Jean Todt make decisions without discussions with anyone else and then only present them to the teams to vote.
Toto Wolff didn't hold back either, "I'm the first person to say that we shouldn't talk the sport down but when the evidence is there before your eyes, you cannot shut them and deny reality," he said.
"The new format is pretty rubbish – much too complicated to follow and a damp squib at the end with nobody running. These were the downsides that we expected to see – and they outweigh the upsides, that much is clear now.
"We wanted to listen to the promoters who were calling for a change – but my personal opinion is that we have found the wrong solution and we need to think carefully about what we do next."
Opinions have been flying around Twitter since the disastrous end to the qualifying session as well.
Twitter user @GrandPrixDiary drew a very good analogy which summed up the second half of qualifying quite well:
F1 qualy is like a boxing match, where the fighters don't come out for the last round because they didn't have time to put their gloves on.

— Grand Prix Diary (@GrandPrixDiary) March 19, 2016
Adam Cooper raised the issue around Q2 drivers in 9th and 10th not fighting to get through to Q3:
Bizarre that many drivers were stranded with no tyres while Force India had them but aborted to guarantee 9th/10th and free start choice

— Adam Cooper (@adamcooperF1) March 19, 2016
Joe Saward also summed things up pretty well:
The strategists said nothing would happen in the last few minutes. They were right. Who invented this daft Q structure?

— Joe Saward (@joesaward) March 19, 2016
At the time of writing, our @F1_Madness poll has a very telling story to tell. Over 75% of voters feel that the new qualifying format is "utter rubbish".
Even F1 supremo Bernie Ecclestone is unimpressed with qualifying, saying that, "It was pretty crap. But this is what we've got, until we can change it." Let's hope that happens soon.