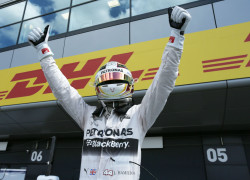 Formula One World Champion Lewis Hamilton claimed his 8th pole position for the 2015 F1 season at the qualifying session for the British Grand Prix at Silverstone.
Hamilton's Q3 benchmark time of a 1:32.248 put him on pole ahead of team mate Nico Rosberg.
Hamilton failed to improve in his final flying lap but his first was enough to secure pole with Rosberg almost half a second behind him, the latter claiming his front left tyre felt "strange" in the final minutes of the session.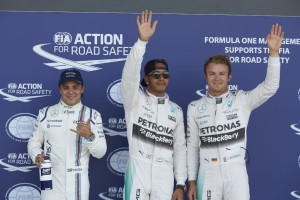 The Williams team had a very strong session, finishing as the second strongest team with Felipe Massa beating his team mate Valtteri Bottas to third postion – a full 0.8 seconds behind Hamilton.
Ferrari, who were expected to have made progress ahead of the British Grand Prix after spending engine tokens for development, were nothing short of disappointing and clearly have not made as much progress as the Williams team have. Kimi Raikkonen beat team mate Sebastian Vettel to fifth place while Daniil Kvyat took seventh for Red Bull.
Carlos Sainz Jr., Nico Hulkenberg and Daniel Ricciardo rounded out the British Grand Prix top 10.
Sergio Perez was 11th in the upgraded B-spec Force India, after having his final flying lap deleted due to track limits at Copse – something which seemed to catch many of the drivers out during the course of the session.
Romain Grosjean was 12th, while Max Verstappen who finished 13th made no secret of his frustration with his car which was a very different machine to drive than he'd had during the final practice session.
Pastor Maldonado was 14th fastest, Marcus Ericsson 15th, and Felipe Nasr missed out on a spot in Q2 by just 0.011s and will start from 16th.
McLaren's miseries continued with Fernando Alonso and Jenson Button only managing 17th and 18th.
Manor Marussia will take up the back row of the British Grand Prix grid with Will Stevens ahead of Roberto Merhi.
The track limits rule will apply during today's British Grand Prix with stewards taking a zero tolerance approach to drivers leaving the track at Copse.
British Grand Prix Qualifying Photo Credits: Mercedes AMG Petronas