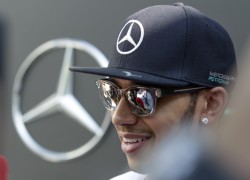 Lewis Hamilton finished quickest this in this mornings first free practice session for the Chinese Grand Prix ahead of team mate Nico Rosberg for Mercedes.
Hamilton's time of 1:39.033 was just a little over half a second quicker than Rosberg's time of 1:39.574 for second place. Behind the Mercedes pair were the two Ferrari's of Sebastian Vettel and Kimi Raikkonen. Vettel's P3 time of 1:40.157 was 1.124s slower than pace setter Hamilton. Raikkonen finished his session in P4 with a 1:40.661. It looks as though Mercedes have come out all guns blazing this weekend.
Felipe Nasr in the Ferrari powered Sauber finished in P5 with the Red Bull pair of Daniel Ricciardo and Daniil Kvyat finishing in P6 and P7 respectively. 9th and 10th belonged to Valtteri Bottas and Felipe Massa for Williams more than 2 seconds off the pace. Pastor Maldonado ended his session in P11 while Romain Grosjean made way for GP2 Champion Jolyon Palmer. Palmer still getting used to the conditions on track had a spin at T8 coming out of T7. The back stepped out on him which sent him into the run off area. He was back on track and managed P15 in the end.
Max Verstappen finished P12 in the Toro Rosso with Jenson Button slotting his McLaren into P13. Marcus Ericsson in the other Sauber was 14th. The Force India pair of Sergio Perez and Nico Hulkenberg languished in P16 and P18 respectively with Fernando Alonso for McLaren in P17.
Both Manor cars enjoyed a trouble free session with Will Stevens finishing ahead of Roberto Mehri.