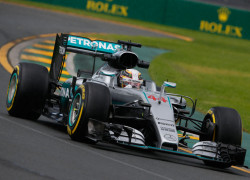 Lewis Hamilton made it a clean sweep by going fastest once again in the final practice session ahead of the Australian GP. The British driver edged out his Mercedes team mate Nico Rosberg, finishing 0.176s ahead of the German to top the final practice session time sheets with a stonking time of 1:25.624s.
While the Mercedes team are still ahead of the field, it is refreshing to see the dominant gap shrinking – Ferrari's Sebastian Vettel completed the final practice session only two tenths behind the Mercs and the entire field of 22 drivers are seperated by only 3.648.
The scene is definitely set for a brilliant qualifying session which will take place in a brand new knock-out format. Vettel's final practice time was set before the two Mercedes drivers who set their times on a rapidly improving track which suggests their could be plenty of action toward the end of qualifying later this today.
There was no sign of rain throughout the entire final practice session and conditions continued to improve throughout the entire 60 minute run.
Toro Rosso proved to be very impressive with Carlos Sainz Jr – who is running a 2015-spec Ferrari engine – splitting the two Ferraris to go fourth fastest, two tenths clear of Kimi Raikkonen. Max Verstappen brought his Toro Rosso home 6th fastest ahead of Valterri Bottas and Daniel Ricciardo.
Felipe Massa finished ninth fastest and Force India's Sergio Perez rounded out the top 10.
The two McLaren drivers showed that the team seems to have made some encouraging progress with Fernando Alonso and Jenson Button setting the 11th and 12th quickest times respectively. Red Bull's Daniil Kvyat was 13th, ahead of the leading Sauber of Marcus Ericsson and Renault's Kevin Magnussen.
Force India's Nico Hulkenberg finished 16th fastest with Renault's Jolyon Palmer behind him.
Some action in the pitlane saw F1 rookie driver Rio Haryanto and Romain Grosjean colliding early in the final practice session when they were both released at the same time.
Haryanto was able to get out shortly after with a new front wing bolted to his car, but Haas chose to change the floor as well as the front wing on Grosjean's car before getting him back out.
Haryanto finished the session 22nd and last on the time sheets, but only two tenths adrift of team mate Pascal Wehrlein.
Grosjean completed the fewest laps of anybody with 11 and ended the session 19th – a 0.008s shave slower than team mate Esteban Gutierrez.
The new format qualifying format will make its debut just a little later this morning. Will Mercedes continue to dominate? Or could the rest of the field be in it to grab it from them? Join us on Twitter @F1_Madness for live interaction, commentary and chat throughout the session.
Final Practice FP3 Classification: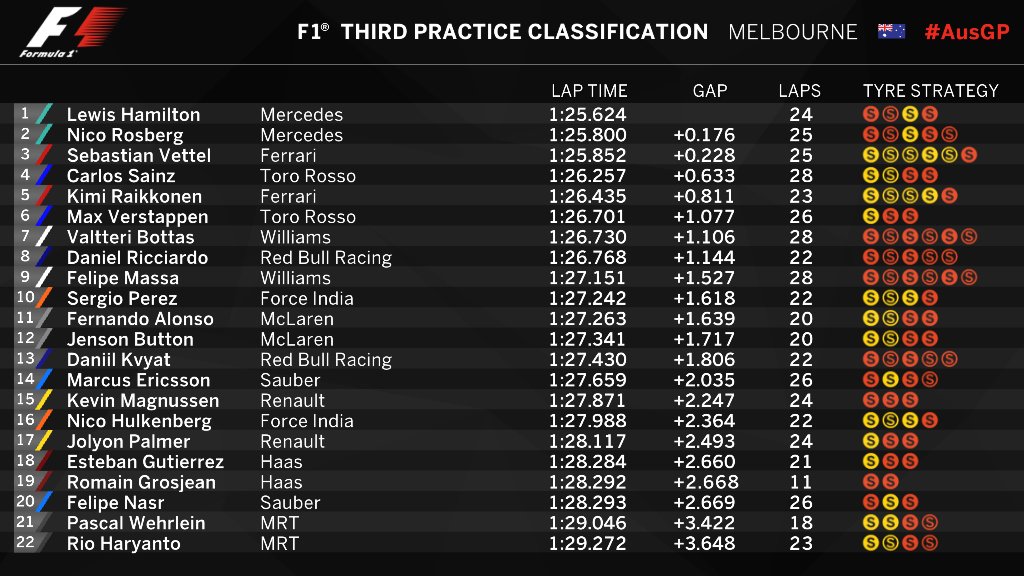 Lewis Hamilton Photo Credit – Mercedes AMG Petronas