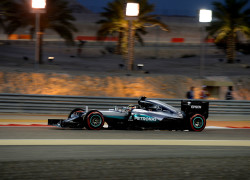 Lewis Hamilton has been given a reprimand following his pit lane incident after qualifying for the Bahrain Grand Prix.
Hamilton who took a pole position with a record setting lap time was summoned to the stewards after qualifying for reversing in the pit lane. This is in breach of Article 28.3 of the FIA Sporting Regulations.
The stewards decided that a penalty is not necessary and the Briton was given a reprimand and will therefore keep his pole position.
"A reprimand has been imposed on the driver due to the fact that no clear instruction was given to the driver on where he should park the car after qualifying," said the stewards in their decision document.
Picture by courtesy Pirelli