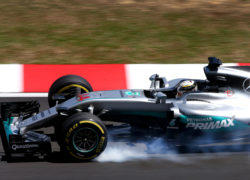 Lewis Hamilton set the fastest time in the third and final practice session for the Malaysian Grand Prix.
Hamilton set his best time of 1:34.434 on the soft tyre on his first timed run. Red Bull's Max Verstappen split the Mercedes after a best time of 1:34.879, 0.445s off Hamilton's time.
Nico Rosberg set a time of 1:35.053 for P3. Despite a few more timed runs Rosberg was unable to improve on his time.
Ferrari's Kimi Raikkonen finished 4th fastest with a time of 1:35.150 just 0.02s faster than team-mate Sebastian Vettel.
Daniel Ricciardo managed 6th fastest with a time of 1:35.461.
Nico Hulkenberg was 7th fastest of the session ahead of Williams' Valtteri Bottas in 8th. Carlos Sainz finished 9th fastest ahead of Felipe Massa in the second Williams.
The session was relatively quiet in terms of incidents. Esteban Gutierrez spun at the much talked about final corner blocking the pit entrance. Sebastian Vettel also fell victim to the final corner after and spun at the final corner.
Red Bull have shown good one-lap pace in Malaysia and will be aiming to split the Mercedes come qualifying. It will once again be a battle between the Mercedes for pole position.
Free Practice 3 times:
| | | | | | |
| --- | --- | --- | --- | --- | --- |
| Pos. | Driver | Car | Best Lap | Gap | Laps |
| 1 | Lewis Hamilton | Mercedes | 1:34.434 | – | 16 |
| 2 | Max Verstappen | Red Bull | 1:34.879 | +0.445s | 14 |
| 3 | Nico Rosberg | Mercedes | 1:35.053 | +0.619s | 16 |
| 4 | Kimi Raikkonen | Ferrari | 1:35.150 | +0.716s | 15 |
| 5 | Sebastian Vettel | Ferrari | 1:35.170 | +0.736s | 14 |
| 6 | Daniel Ricciardo | Red Bull | 1:35.461 | +1.027s | 22 |
| 7 | Nico Hulkenberg | Force India | 1:35.776 | +1.342s | 16 |
| 8 | Valtteri Bottas | Williams | 1:35.902 | +1.468s | 17 |
| 9 | Carlos Sainz | Toro Rosso | 1:36.222 | +1.788s | 18 |
| 10 | Felipe Massa | Williams | 1:36.227 | +1.793s | 20 |
| 11 | Sergio Perez | Force India | 1:36.259 | +1.825s | 15 |
| 12 | Jenson Button | McLaren | 1:36.363 | +1.929s | 11 |
| 13 | Esteban Gutierrez | Haas | 1:36.553 | +2.119s | 14 |
| 14 | Jolyon Palmer | Renault | 1:36.604 | +2.170s | 20 |
| 15 | Romain Grosjean | Haas | 1:36.687 | +2.253s | 15 |
| 16 | Kevin Magnussen | Renault | 1:36.741 | +2.307s | 19 |
| 17 | Daniil Kvyat | Toro Rosso | 1:36.752 | +2.318s | 20 |
| 18 | Marcus Ericsson | Saube | 1:36.765 | +2.331s | 19 |
| 19 | Felipe Nasr | Sauber | 1:37.106 | +2.672s | 18 |
| 20 | Esteban Ocon | Manor | 1:37.961 | +3.527s | 17 |
| 21 | Pascal Wehrlein | Manor | 1:38.089 | +3.655s | 13 |
| 22 | Fernando Alonso | McLaren | 1:41.199 | +6.765s | 15 |
Photo credit: Mercedes AMG Petronas Formula One Team