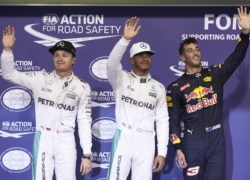 Lewis Hamilton says he felt in control as he stormed to pole position for the F1 world championship title decider at the Abu Dhabi GP.
Hamilton beat championship leader and team mate Nico Rosberg by 0.303, with a 1:38.755. Twelve points stand between Hamilton and his fourth world title but the Brit maintains he is well in control.
"The first section I knew I had pace for the rest of the lap so I was relatively not cautious but didn't want to cook it into turn one so that is where a little bit of time went to Nico," Hamilton said. "Otherwise the rest of the lap I had it under control so I made sure I maximised it in those areas.
"So far this weekend I have been solely focused on getting to this position which I truly believed I could and it worked."
Hamilton also made it clear that he doesn't feel the same pressure he did back in 2014 because he has nothing to lose now.
"This is a much different scenario to 2014," he said. "The reason I couldn't sleep before the race was because I worked so hard during the year and faced different challenges but had more wins and yet I could have thrown it all away that week.
"Having lost the championship in 2007 that had played on my mind but tomorrow is a complete opposite of the spectrum."
Hamilton needs Rosberg to not make it onto the podium if he has any hopes of taking the title home on Sunday.
"I knew I had pace throughout the rest of the lap so I was relatively cautious, well not cautious but I didn't overcook it into Turn 1 so that's really where a little bit of time was to Nico," the three-time world champion explained. "Otherwise the rest of the lap I had under control so I just made sure I maximised those areas.
"This weekend so far I've got the car in a real sweet spot, great work done by my engineers and my faultless mechanics again, they've done a fantastic job. Everyone back at the factory as well, I just want to thank everyone.
"I can't believe I have 61.That's four more to go to try and catch Ayrton [Senna] but it's been a great weekend so far. I wouldn't have the 61 poles I have now without them so a big thank you to them. It's the perfect position for tomorrow."
Daniel Ricciardo was third, 0.834s down in his Red Bull, with Kimi Raikkonen a further 0.015s off the pace for Ferrari.
Sebastian Vettel was fifth fastest ahead of Max Verstappen. Nico Hulkenberg was seventh ahead of Sergio Perez, Fernando Alonso and Felipe Massa, who qualified tenth fastest for his final grand prix.
Williams team mate Valterri Bottas was 11th fastest with Button qualifying in P12 for his final F1 race. Gutierrez came in 13th fastest for Haas with Grosjean, Palmer, Wehrlein, Kyvat and Magnussen behind him. Sauber's Felipe Nasr, Ocon, Sainz and Ericsson completed the grid.