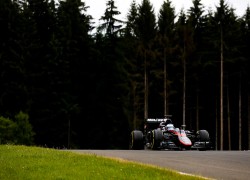 The McLaren F1 team face a difficult Austrian Grand Prix after confirming that both their drivers will incur grid penalties.
It was announced on Friday that Fernando Alonso will incur a 20-place grid drop for replacing an engine, a turbo charger and a MGU-H.
During a rain hit Free Practice 3 on Saturday , Alonso came to a stop on the pit straight. It later emerged that he suffered from a gearbox problem and that his gearbox needed to be replaced. This means that Alonso will incur a further 5-place grid penalty for the gearbox change which makes it a 25-place grid drop in total.
On Saturday morning McLaren confirmed a complete power unit change for Jenson Button. This would mean a 25 place grid drop for the Briton.
With McLaren not qualifying very high on the grid there is a high probability that neither of their drivers will be able to completely serve their grip drop penalties. This will mean that the stewards, at their discretion, convey a time penalty. The time penalties are applied based on the number of places a driver will drop after qualifying.
If a driver drops 4 places or less, he will incur a 10 second stop-and-go penalty. A 1-5 place drop or less will get the driver a 5 second stop-and-go or a 5 second post race time penalty. For a driver that drops between 6-10 places it will be a 10 second stop-and-go or a 10 second time penalty after the race. A drop of less than 11-20 places is a drive through or 20 second penalty after the race. The big one is if a driver drops less than 20 places. He will then incur a 10 second stop-and-go or a 30 second time penalty after the race.
This is a bit confusing but for example, if Button or Alonso qualify in P18, after their grip drop penalty is applied, Alonso would still need to drop 18 more places which means he will incur a drive through penalty during the race or a 20 second stop and go. It is likely that both drivers will get drive through penalties for the race.
Else where on the grid, both Red Bull's of Daniel Ricciardo and Daniil Kvyat will drop 10 places due to engine changes.