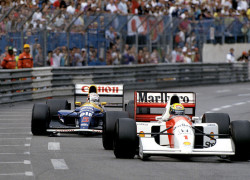 A Formula 1 fan is a scholar of history, a lover of all that came before in this majestic sport.
The Grand Prix Drivers Association global fan survey asked for your view on the history of the sport and the response was pretty resounding. Formula 1 cars have always been achingly beautiful pieces of machinery and engineering that could conjure of feeling of true love at first sight. Here we completely excluded the awful and vulgar noses of few years ago.
As far as 32% of  the fans are concerned it was the 2000s which produced the best looking cars. The 1990s follow in second place with a voting percentage of 20% and the 1980s with 18%. The current era of cars came in at fifth place with only 10% voting it as the best-looking F1 cars of all time.
The top three drivers of all time is a discussion most F1 fans would've had on several different occasions. While there will always be a difference of opinion based factors that cannot be quantified the fans in this survey were pretty spot on with their choices. In first place is the great Ayrton Senna, in second seven times world champion Michael Schumacher and in third Alain Prost.
We could give different reasons for why all three these drivers deserve to be number one but we don't have to. The great thing about Formula 1, and its fans, is that this discussion will be had fifty years from now with great passion and reverence for the greatest drivers this sport has ever seen. The names Senna, Schumacher and Prost will never be far away from any Formula 1 discussion.