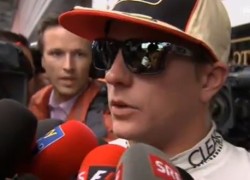 With F1 Silly Season in full swing, Motorsport Editor for Streetmotion, Reynard Gelderblom, wrote in to give us his views on who will be filling which remaining seats in the Formula One paddock. Here are his F1 Silly Season thoughts.
We've only just past the halfway point and the proverbial F1 silly season of the 2013 F1 championship is in full swing. Several seats are already filled, but some big questions still remain.
In many ways Kimi Raikkonen's signature holds the key to various open seats. Then there's the second McLaren seat too. Let's clear up who's in, who's out and caught in between.
Infiniti Red Bull Racing
Sebastian Vettel is staying with the team and despite rumours linking various names, I was expecting an announcement before the Italian Grand Prix that Daniel Ricciardo will be partnering him. That announcement is now in. But it would've been nice to see Raikkonen or Fernando Alonso alongside him. There's nothing as spectacular as a top team with two of the best drivers on level terms – remember McLaren with Ayrton Senna and Alain Prost at the end of the eighties?
Still, to ensure that the young driver programme remains a success, it is fitting that Mark Webber's successor comes from the lower ranks. Ricciardo has done enough to secure his opportunity and it is a well earned promotion for him. Unlike Jean-Eric Vergne, the Australian just looked like being the one who stuck his hand up when it mattered … And this did get noticed.
Ferrari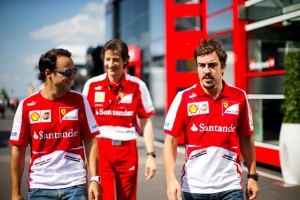 The dream of two top drivers in a front running team can still be realised when the Italian team announce who will be partnering Alonso in 2014. Raikkonen would love to return to Ferrari. The Finn has one goal in mind: Winning. Sadly, despite strong form early in 2013, Lotus has not quite delivered the car to put him in this position.
The question is however: Will Alonso want Raikkonen alongside him? With the Spanish Santander money following Alonso, even a financially strong team like Ferrari must make decision based on money. We all know Fernando doesn't play well with others on a level playing field, just ask Lewis Hamilton and Nelson Piquet Jnr.
Also, don't expect Raikkonen to be the nice guy that Felipe Massa was during the 2012 American GP. My views for Ferrari: It's time for Massa to go and I'd love to see Raikkonen back in a Ferrari. I'm however expecting Nico Hulkenberg to drive the second Ferrari in 2014.
Mercedes
I've been guilty of calling Mercedes "just another Toyota", and calling Hamilton a fool for joining them and Nico Rosberg "just another driver as good as his car". The truth is I was wrong on all three counts. What we've seen so far in 2013 is a team and driver pairing that can well bring back the glory days for the Silver Arrows.
Despite the rule changes and new engines, they're the only team with a confirmed unchanged line-up for 2014. Everything just seems to build towards something big for Mercedes and consistency may well be the key aspect in the changing world of 2014. Watch out Vettel, that Red Bull cloud may have a very silver lining next season.
Lotus
A lot rides on where Raikkonen will go. Ferrari is an option, McLaren not. If Lotus can provide a fast car and pay him, Lotus may just be the best option for him. And if Lotus wants to be smart, they should also keep their line-up intact. Raikkonen's record with the team speaks for itself and Romain Grosjean has developed into a more mature driver as well. What if Raikkonen does go to Ferrari though? What about Giedo van der Garde, Adrian Sutil or even GP2 championship leader Stefano Coletti? Of the front running teams, Lotus may be the team who'll surprise all of us when they announce their driver line-up.
Force India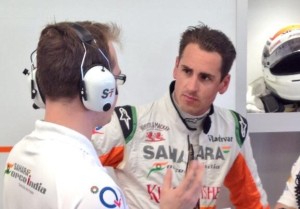 Paul di Resta will be staying with the team. The big question is who should partner him? Despite being replaced in 2012, Sutil has become somewhat part of the Force India furniture. The German is good, make no mistake about it but if he's not going to progress up the ladder, is he good enough to deserve yet another season? Jules Bianchi tested for the team at the start of the season and has somehow looked better than in his Marussia. Perhaps it's time to bring some young blood into the team. Also, given his experience as Mercedes test driver and current GP2 form, don't discount Sam Bird either.
McLaren
The 2009 World champion Jenson Button does not have a contract yet and don't be surprised if this will be the last season we'll see the Brit in F1 either.  This has been a somewhat hopeless year for McLaren. Sergio Perez is still contracted and one can only hope that his erratic streak comes to an end.  Perhaps we'll see Button for another season, but I doubt it. I've heard a lot of names flying around though: Sutil, Bird and Gary Paffett just being a few of them. Never discount McLaren for fielding young blood. Mika Hakkinen, Raikkonen and Hamilton are just three drivers whose careers took off since joining them. On that note, also don't be surprised to see the name Valtteri Bottas being mentioned here as well.
Torro Rosso
Ricciardo leaves to join Red Bull and I don't see Jean-Eric Vergne being given a third season, especially not with him not being in contention for any future Red Bull plans. But which of the Red Bull young drivers do you field? Carlos Sainz, Daniil Kvyat and Antonio Felix da Costa all look promising, but you have to remember that all of them only have GP3 knowledge. Torro Rosso might wait till very late to announce their line-up for 2014. With Renault being announced as their engine supplier, we could we see this also influencing their line-up.
Sauber F1
Sauber needs money. Hulkenberg needs a competitive car and Esteban Gutierrez needs to deliver on his pre-season potential. Sauber also still needs an engine for 2014. There are rumours that Massa could be ending his career with them, but without Ferrari engines I somehow don't see this materialising. There's speculation of Russian money coming in, and with that maybe a Russian driver. This could mean that we can see Vitaly Petrov making a comeback to F1. Still, I just get the feeling that Sauber will somehow be happy to have two cars competing for the lower points on the gird in 2014, having at least one competitive driver will be a huge bonus.
Williams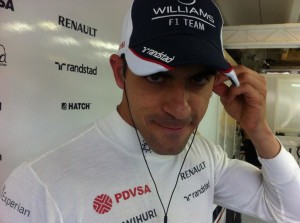 I just want to page through the history files here for a bit: Nigel Mansell, Nelson Piquet, Alain Prost, Damon Hill, Jacques Villeneuve – all names that won championships with them during the last 30 years. Senna lost his life while driving for the then dream team. They've brought us drivers like David Coulthard, Button and Montoya and once had Ralf Schumacher being in contention for the title.
Where exactly did things go wrong for them that they've become the home of pay drivers such as Pastor Maldonado? I can't stress this point enough; it's time for Maldonado to go. 2014 will see them switching to Mercedes engines and with that I'm hoping to see either Sutil or Bird coming in. If Bottas can't secure a top drive, I'd like to see him retain his seat too.
Marussia
Just ask Timo Glock how loud money can speak at the back of the grid. Max Chilton hasn't quite lived up to any expectation in 2013 and unless he comes with a hefty cheque, I'd be surprised to see him back. I'd also be surprised to see Bianchi not moving up. This could open doors for Luiz Razia who tested with them at the start of the season, or test driver Rodolfo Gonzalez. For all we know Maldonado might even have a lifeline here. They're another team with a good young driver programme in both GP2 and GP3, but I foresee money speaking louder than talent here.
Caterham
The same goes for Caterham. Charles Pic is already confirmed and Van der Garde has done enough to move up. Test driver Alexander Rossi is fast, but I doubt if this will be enough.
Money may speak louder than talent at the back, but no one can speak louder than Raikkonen at the front end. Watch this space on Street Motion and F1 Madness as we'll bring you more F1 silly season updates during the rest of the season.
What changes and surprises do you think the F1 Silly Season will still bring? Let us know your thoughts in the comments section below!
Reynard Gelderblom is the motorsport editor for Street Motion.
Keep up to date with the latest local motorsport news by following Street Motion on Twitter.

Photo Credits:
Kimi Raikkonen – F1 Madness Screengrab
Alonso and Massa – Ferrari F1 Twitter team
Sutil – Force India Twitter team
Maldonado – Williams F1 Twitter Team