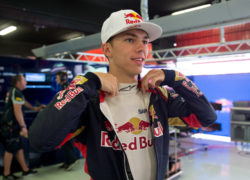 The Toro Rosso Formula One Team announced today that young rookie Pierre Gassly will replace Daniil Kvyat at the Malaysian Grand Prix.
This will be the Frenchman's debut as a Formula 1 driver and will be in the driving seat for the next few races.
Speaking about Gasly's debut Toro Rosso Team Principal Franz Tost: "Scuderia Toro Rosso was established by Red Bull to bring youngsters from its Junior Programme into Formula 1 and that's what we are doing by giving Pierre this chance.
"He is the next in line at Red Bull for this opportunity and he has shown that he deserves it, having taken the 2016 GP2 title and this year being very competitive in the Super Formula series in Japan. He really has a valid chance of winning the title, as he is only half a point behind the leader.
It is, however, not the end of the road for Kvyat according to Tost saying that the Russian has his fair share of bad luck, and that his mistakes that he has made so far has hindered his ability to show his potential.
"The driver switch gives us an opportunity to make a more informed decision regarding our 2018 driver choices," added Tost.
"For a variety of reasons, some of them due to technical problems, but others being mistakes of his own making, Daniil Kvyat has not really shown his true potential so far this year, which is why we are standing him down for the next races.
"This will give us the opportunity to evaluate Pierre on track during a proper race weekend."
According to reports, Gasly would have been at Toro Rosso sooner had Renault's Jolyon Palmer accepted an early exit deal from Renault. This move would've allowed Carlos Sainz to switch to Renault freeing up the space left by Sainz for Gasly. With Palmer reluctant to give up his seat, this was the next alternative for Toro Rosso.
"I would like to thank everyone who has helped me get this chance in my motor racing career and specifically, Red Bull, Dr. Helmut Marko and Scuderia Toro Rosso…this is a great opportunity for me," said Gasly.
"I feel as ready as I can be, having had to be prepared for anything in my role as Red Bull Racing's third driver this year. I will do my best to perform well with Scuderia Toro Rosso during these coming races."
Photo credit: Scuderia Toro Rosso Formula One