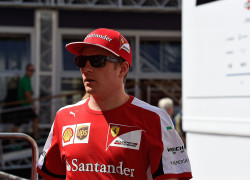 After struggling through the third qualifying session for the Spanish Grand Prix, Ferrari's Kimi Raikkonen reveals that a freak tyre blanket incident hindered his chances at a good grid slot for tomorrows race.
Raikkonen was 3rd at the end of Q2 and showed strong pace and it looked like the Finn would finish in the top 4. This, however, was not to be. " Today we also lost one set of Medium tyres because of a burning of a blanket," said Raikkonen after qualifying.
"Tomorrow is another day and the race is a different story, obviously we start in a position that is not ideal , but we have a good package," he continued.
"So far the weekend has been more difficult than I wanted and today I was still struggling, for some reason my car was sliding around.
"After a difficult Friday I decided together with the team to go back to the old package because I wanted to make sure it was fine. We knew it would be a risk and it might be difficult but I don't think that the result would have been as bad as it was today.
Raikkonen insisted that the decision to remove some of the new aerodynamic parts was taken by himself and the team. "It was my decision plus the team's," said Raikkonen.
In Q2 the feeling was pretty ok but then in Q3 it was difficult again, I had not much grip and did a bad lap.It's one of those weekends in which things keep going a little wrong here and there."