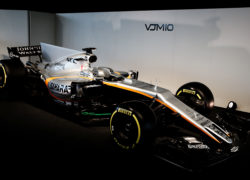 The Sahara Force India Formula One team launched their 2017 contender, the VJM10, today at the Silverstone Circuit.
With all the sponsors and media around the two driver for Force India, Sergio Perez and Esteban Ocon, pulled off the covers off the VJM10. The car cuts an imposing figure with it's low and wide stance.
"I can't remember being more excited ahead of a new season," said Force India Team Principal Vijay Mallya.
"The VJM10 looks aggressive and purposeful, and is the result of a huge effort behind the scenes over the last twelve months," he added.
Mallya hit back at Renault Team Principal Cyril Abiteboul saying: "It's not the amount of weapons but the quality in your armory!"
Force India have targeted a top 3 finish in the constructors championship this season after a very strong 4th place finish in 2016.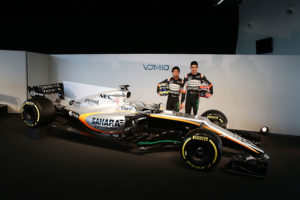 "This year the cars are completely new and nothing can be carried over from previous years," explained Chief Operating Officer, Otmar Szafnauer.
"Although we have completely new aerodynamics on the VJM10, it's fair to say that our aero philosophy is very similar to 2015 and 2016."
Talking about the technical challenge of designing the 2017 car, Technical Director Andrew Green said that his team was under no illusions in designing the 2017 car and that it was a steep learning curve for them.
"It's definitely a big overhaul; one that requires a change in mentality," said Green.
"It took a bit of time to adjust at first, but we are there now and I am confident we know where to look and where the performance is coming from with this car.
"The development slope is incredibly steep and we are going to see significant updates to the cars at regular intervals, right from the start; it's going to be big updates and I don't think development will start to taper off any time soon."
Photo credit: Sahara Force India Formula One Team