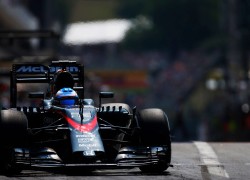 Fernando Alonso described his 5th place finish as "a little present" for McLaren after a chaotic Hungarian Grand Prix race.
Alonso started the race in 15th position but managed to keep his wits about him and his car out of trouble to take advantage of the chaos around him to finish in 5th place, McLaren's highest points finish for the 2015 season.
His team mate Jenson Button finished in 9th after starting 16th meant that this was McLaren's first double points finish for 2015.
"This was a very good race, and fifth position at the finish is a nice little present for the whole team, particularly as we're not as competitive as we'd like right now," said Alonso after the race.
"These points are a good way to send the whole team into the summer break, but we need to further maximise our chances in the second half of the season," he continued.
Button lamented the decision not to bring him into the pits under the safety car, but he was nevertheless happy with his points finish. He also acknowledged that the penalties and and accidents that occurred ahead of him helped a bit.
"Fernando did a great job today," said the Briton.
"Fitting the Option tyre for the final stint was the right decision for him; I didn't stop for tyres under the Safety Car whereas pretty much everyone around me did," he added.
"That decision made it very difficult for me, because my used Primes were pretty old by the end of the race, and there were plenty of faster cars around me running fresher Options.
"Still, it was a fun race, and it's great to get points ahead of the summer break. The accidents and penalties certainly helped us, but we still did a good job out there today.
"This is a step forward for us, but we'll need to take another step if we're to repeat this sort of result.
"Equally, the next two races – at Spa and Monza – will probably be difficult for us, but it's good to see we're making progress."