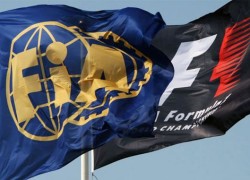 At the World Motorsport Council meeting which took place today, the FIA approved a few sporting regulation changes to F1 for the 2017 season.
Standing Wet Starts
Wet starts behind the safety car robbed the spectators and fans of the excitement off the start. From next year, after the first few laps behind the safety car at the start of a race, the drivers will line up on the grid for a standing start in the wet conditions.
"From 2017, if a safety car is deemed to be required for the beginning of a race due to wet weather, a normal standing start will occur once the track is deemed safe to race," said the FIA in a statement. "The process will see the safety car return to the pit lane and the cars assemble on the grid for the start."
No More Pooling of Engine Components
The loophole that allowed drivers to pool engine components over a race weekend has been closed.
"During any single event, if a driver introduces more than one of a power unit element that is subject to penalty, only the last element fitted may be used at subsequent events without further penalty," read the statement by the FIA.
"This is to prevent the stockpiling of spare power unit elements."
Fixed Tyre Choices for first 5-races of 2017
The teams will all receive the same tyre allocations for the first 5-events of the season. This, the FIA says, is due to the fact that the deadline to submit the tyre choices occurs before pre-season testing. Pirelli will offer two sets of the hardest compound, four sets of the middle compound specification tyre and 7 of the softest compound specification tyre for the weekend.to each driver.
One Helmet Livery Change Allowed
Drivers will not be able to alter the liveries on their helmets once again in 2017. The FIA have given all drivers one wildcard for the season where a driver will be allowed to completely change the livery on his helmet. Drivers will also be allowed to change helmet liveries when moving between teams during a season.