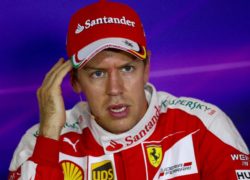 The FIA is investigating looking Sebastian Vettel's team radio meltdown during the closing laps of the Mexican Grand Prix to figure out whether the former world champion breached any rules outlined in the Sporting Code of Conduct.
Vettel, who was very irate about Red Bull's Max Verstappen not immediately being told to move over after cutting across Turn 2 to hold third place, set off on a string of very angry radio messages and went as far as sending a message telling off race director Charlie Whiting: "You know what? Here is the message for Charlie: f–k off! Honestly, f–k off," was among Vettel's radio messages broadcast by the FOM during the race.
Whiting did issue a time penalty for Verstappen which promoted Vettel to the podium position, though Vettel subsequently lost that position due to a time penalty of his own.
Vettel did approach Whiting to apologise personally after the Mexican GP podium celebrations but the FIA has decided to investigate whether the German breached any rules and if so, what action needs to be taken. The following articles of the FIA International Sporting Code bear relevance:
12.1.1.c Any fraudulent conduct or any act prejudicial to the interests of any Competition or to the interests of motor sport generally.
12.1.1.f Any words, deeds or writings that have caused moral injury or loss to the FIA, its bodies, its members or its executive officers.
Penalties for breaching these rules include a reprimand, a fine or even suspension from an event.