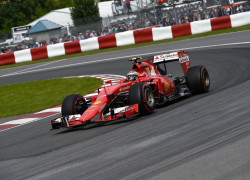 Ferrari team boss Maurizio Arrivabene has said that Ferrari will not change its target of two race wins for the 2015 Formula One season following on a below average Canadian Grand Prix. The Ferrari boss likened the idea of changing their target to surrending which he is most definitely not ready to do.
After not recording a single win during the 2014 F1 season, Ferrari returned to the top step of the podium after only two races, with Sebastian Vettel taking the victory in Malaysia.
Despite using engine tokens to close the gap to pace setting rivals Mercedes, Kimi Raikkonen and Sebastian Vettel managed only fourth and fifth places at the end of the Canadian Grand Prix.
Arrivabene however sees no reason to change their expectations despite the dissapointing result. "No, absolutely no change," Arrivabene said. "If I change the objectives it's like if I say, 'I surrender', and we don't surrender."
"Going to the podium every race is boring, but when you go down from the podium it's the worst," he continued. "I think we need to look up and not down, but don't change the objectives, no way."
He added that engine upgrades brought to the Canadian Grand Prix were in line with their expectactions and that Ferrari need to accept that Mercedes is just a lot stronger at the moment.
"The engine upgrade was giving us the positive answer that we were asking for," he said.
"Unfortunately it was not a good weekend, but the response we had from the engine was good.
"We need a bit of humility to recognise at the moment they [Mercedes] are stronger than us, without thinking, 'OK, now we have closed the gap so we can beat them every race'.
"This is not realistic, but the answer that we get during the weekend is quite good."
Photo Credit: Scuderia Ferrari