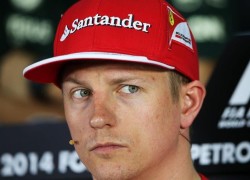 The Ferrari and Force India F1 teams have been fined for pit lane speeding after both Kimi Raikkonen and Sergio Perez were caught exceeding the 80km/h speed limit during the first practice session for the British GP.
Perez was the faster of the two, caught travelling 83.6km/h down the pit lane while Raikkonen was caught at 82.5km/h.
Ferrari has received a €300 fine and Force India will have to pay up €400.
Catch up on what happened during FP1 ahead of the British GP here.