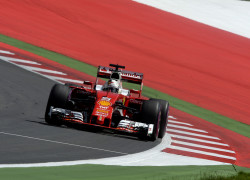 Sebastian Vettel put Ferrari at the top of the time sheets at the end of the 3rd Free Practice session for the Austrian Grand Prix.
In a session where teams were still finding the limits of their cars, Vettel put his SF16-H at the top of the time sheets early on in the session. He kept improving his time throughout. On his second stint on the ultra soft tyres he set a time of 1:07.098. His team mate Kimi Raikkonen set a 1:07.234, 0.136s off Vettel's time.
Lewis Hamilton locked up 3rd fastest with a 1:07.308. Mercedes seemed to have been struggling with the high track temps. Their initial running saw heavy graining and blistering on their tyres. Nico Rosberg crashed out of the session after a rear suspension wishbone failure at the exit of Turn 2. This sent the German nose first into the barrier which spun him around where the rear of his car made contact with the barrier as well. Rosberg was up on Vettel's time through the first sector.
After the session Mercedes confirmed that Rosberg would have to incur a 5-place grid drop for a new gearbox.
The Red Bull pair of Daniel Ricciardo and Max Verstappen finished 4th and 5th fastest respectively. The Williams pair finished 6th and 7th with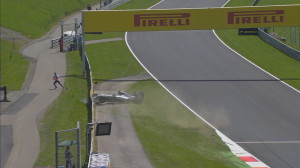 Valtteri Bottas finishing ahead of Felipe Massa.
Nico Hulkenberg finished 8th fastest for Force India showing strong pace for the Silverstone based team.
McLaren, who chose not to run their radical new rear wing, finished 9th and 10th with Jenson Button finishing just ahead of Fernando Alonso.
We're building up to a very close qualifying with Ferrari stepping up their game with their token engine upgrade and with Mercedes slightly off the pace. Although Rosberg was very quick through the first sector before the crash it's tough to predict what his final lap time would be. Mercedes have a tough task of repairing Rosberg's car before qualifying. It is expected that they will have it repaired before qualifying but it will be touch and go.
Both Vettel and Rosberg will drop 5-places down the grid after qualifying which should play into the hands of Hamilton, Raikkonen and the two Red Bulls.
| | | | | | |
| --- | --- | --- | --- | --- | --- |
| Pos | Driver | Car | Time | Gap | Laps |
| 1 | Sebastian Vettel | Ferrari | 1:07.098s | – | 20 |
| 2 | Kimi Raikkonen | Ferrari | 1:07.234s | 0.136s | 26 |
| 3 | Lewis Hamilton | Mercedes | 1:07.308s | 0.210s | 20 |
| 4 | Daniel Ricciardo | Red Bull | 1:07.639s | 0.541s | 22 |
| 5 | Max Verstappen | Red Bull | 1:07.761s | 0.663s | 22 |
| 6 | Valtteri Bottas | Williams | 1:07.814s | 0.716s | 23 |
| 7 | Felipe Massa | Williams | 1:07.831s | 0.733s | 27 |
| 8 | Nico Hulkenberg | Force India | 1:08.285s | 1.187s | 23 |
| 9 | Jenson Button | McLaren | 1:08.304s | 1.206s | 19 |
| 10 | Fernando Alonso | McLaren | 1:08.327s | 1.229s | 17 |
| 11 | Sergio Perez | Force India | 1:08.442s | 1.344s | 26 |
| 12 | Esteban Gutierrez | Haas | 1:08.475s | 1.377s | 22 |
| 13 | Pascal Wehrlein | Manor | 1:08.534s | 1.436s | 29 |
| 14 | Romain Grosjean | Haas | 1:08.550s | 1.452s | 21 |
| 15 | Kevin Magnussen | Renault | 1:08.569s | 1.471s | 31 |
| 16 | Daniil Kvyat | Toro Rosso | 1:08.786s | 1.688s | 32 |
| 17 | Jolyon Palmer | Renault | 1:08.939s | 1.841s | 27 |
| 18 | Carlos Sainz | Toro Rosso | 1:09.008s | 1.910s | 11 |
| 19 | Rio Haryanto | Manor | 1:09.116s | 2.018s | 28 |
| 20 | Marcus Ericsson | Sauber | 1:09.137s | 2.039s | 25 |
| 21 | Felipe Nasr | Sauber | 1:09.557s | 2.459s | 20 |
| 22 | Nico Rosberg | Mercedes | 1:10.959s | 3.861s | 16 |