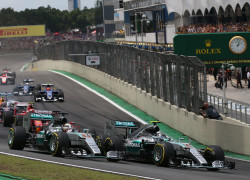 The push to revamp F1's rules is 2017 seems to have been brought to the fore once again after a meeting between the F1 commission and the FIA
The new rules are touting wider, faster cars with increased down force and also a revamped qualifying format which will see more cars on track throughout the session.
The changes to the cars are detailed in the table below:
2017
Weight
722kg
Bodywork
1600mm max allowable width
Suspension
2000mm track
Front Wing
1800mm span
Rear Wing
950mm wide, 800mm high. Swept endplate
Floor
• 1600mm max allowable width, 1400mm minimum width
• Reference plane 430mm behind front axle
• 175mm high, 1050mm wide diffuser
• Cut-out plank to save weight
Tyres
Front: 305mm wide. Rear: 405mm wide
The new qualifying format features an elimination style shootout between the cars on track. The three qualifying sessions will remain. The only difference is that the slowest driver in each session will be eliminated every 90 seconds. This format has the potential to yield some surprising results and will mix the grid up a bit come race day.
Read about the new qualifying format here
The other big talking point was the introduction of head protection for the drivers. The current preferred option by the FIA is the "Halo" concept. The FIA say that while the Halo is preferred they are exploring other options which will continue to be evaluated.