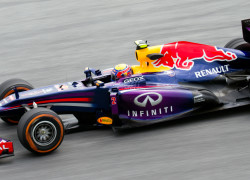 Reynard Gelderblom, Motorsport Editor of Streetmotion, sent us his perspective on the Red Bull young driver program.
We'd love to hear your thoughts too! Let us know what you think in the comments below, or let us know if you'd like us to publish your opinion too.
Here's what Reynard had to say:
Do I see red for the young bulls?
Well there is certainly lots to talk about after the German Grand Prix, so let me start off by saying what I'm not going to talk about…
I'm not going to talk about tyres again. We'll have to wait for what comes from the Silverstone test and after the Hungarian GP where Pirelli will introduce some more tyre upgrades. On that point, I'm also going to disappoint those who tweeted me to talk about Mercedes still being excluded from the young driver portion of the Silverstone tests since all the teams will now be doing tests with 2013 cars and drivers as well. It's a penalty, or more of a slap on the wrist – live with it.
I'm also not going to talk about safety gear for media – that's a point for the FIA to address. Then there are cars reversing over a straight, wheel guns and Sauber going to Mother Russia… all of those are tempting, but no.
Now we've filtered it down to Lewis Hamilton's love life, but this is of course a column for two online motorsport publications. If an entertainment magazine would approach me I'd love to sit here and give my views of how Lewis is driving better when Sir Cliff's "Bachelor Boy" is playing on his iPod, sadly none of them have contacted me yet.
That leaves me with something I've been looking at now for the last few weeks: The Red Bull young driver program. We all know what a success story this turned out to be. Sebastian Vettel is a three-time consecutive World champion and came through the ranks which included the Red Bull "B" team, Torro Rosso.
In fact, at Monza 2008, Vettel took what was essentially a rebadged Minardi to a maiden win for a Red Bull liveried car. At the end of June 2013, Mark Webber announced his retirement from Formula 1 which means there'll be an opening in the Red Bull teams for 2014. With Torro Rosso retaining both Daniel Ricciardo and Jean-Eric Vergne for 2013, this surely means that it will be up to one of them to progress. Wrong.
Here are the names that are being mentioned: Kimi Raikkonen, Adrian Sutil, Romain Grosjean… oh and Ricciardo. With Sauber's salary checks being written by the same people designing the soft compound tyres you can probably expect the name Nico Hulkenberg to be added to that list shortly considering that he's on every other team manager's shortlist now. Vergne has been putting in some good performances, but those are really few and far between compared to Ricciardo. That means one name from the young driver program is realistically in the running, although I'm quite sure that Raikkonen must be the favourite.
Ricciardo and Vergne aren't the only two names who may never make it higher in the organisation than the "B" team. This program started long before the popular energy drink manufacturer purchased their first team, Jaguar in 2004. Have a look at this list: Enrique Bernoldi provided some capital for Arrows, Christian Klein brought 10 Million Euros to Jaguar and no real results, Vitantonio Liuzzi, Robert Doornbos, Patrick Friesacher, Narain Karthikeyan and Karun Chadhok filled gaps here and there.
In fact if there's something which this program did well through the years, it was to supply drivers-on-demand for the HRT team. Scott Speed, Sebastian Bordais, Sebastian Buemi and Jamie Alguersuari all looked promising at the start of their Torro Rosso careers, but eventually they all slipped back as well. Neel Jani and Adrian Zaugg at least had a taste of success in the former A1GP series. At present there are six driver in the program with Antonio Felix da Costa, Carlos Sainz Jnr and Daniil Kvyat looking like the next to be in line for future vacancies.
Vettel made it through this system, but granted he is being compared by some to Michael Schumacher and Ayrton Senna. A good driver will always find a way to the top… even in a mediocre car. Have Red Bull backed the wrong drivers through the years or is there maybe a bigger problem here – maybe a lack of actual driver development? Has the program become a victim of its own success? Has it really become too overpopulated? I don't know but one F1 race winner in fourteen years hardly screams of success.
In my point of view, Ricciardo is the man who should be looking forward to partnering Vettel in 2014. If not, maybe it's time to relook something which has been globally called a success story, because choosing Raikkonen or Sutil will prove the exact opposite.
Reynard Gelderblom is the motorsport editor for Street Motion.
Keep up to date with the latest local motorsport news by following Street Motion on Twitter.