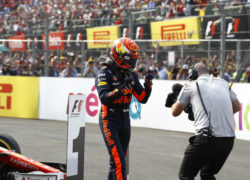 Formula 1 is a sport where just about everything is engineered and managed to the most minute of details. However, despite the near obsessive level of attention to detail the volatility of the human factor often still has the biggest impact.
In Mexico Max Verstappen made his presence felt as he barged his way into the lead of the race from his front row starting position. Though Verstappen, pole sitter Vettel, and Hamilton were three abreast into the first turn it was the Dutchman that barged his way into the lead of the race and not only left Vettel and Hamilton battered and bruised but also at the back of the field. Hamilton was left limping back to the pits with a right-rear puncture while Vettel too was forced into the pitlane for a new front-wing. It certainly wasn't the afternoon Mercedes or Hamilton had envisioned but as Vettel wasn't running first or second he was still on course to take the title.
The radio chatter between Hamilton and the Mercedes pitwall clearly revealed that there were more than a few anxious moments in the cockpit of the number 44 Mercedes. As it where, despite several thrilling overtakes Vettel could ultimately only recover to fourth. It meant that Hamilton's own ninth place finish was enough to crown him the 2017 driver's champion in what was one of the most intense championship deciders in quite some time.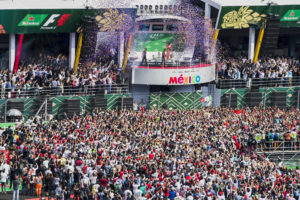 For Max Verstappen, well ahead in P1, it was a far less stressful afternoon. In fact, such was his pace that the 20-year-old had to be told several times to slow down. Even so, no one had an answer for his pace around the Mexican circuit, which rewarded the aerodynamic efficiency of the Red Bull to a tee. Verstappen's sterling drive left him nearly twenty seconds clear of the second placed Mercedes of Valtteri Bottas with Ferrari's Kimi Raikkonen completing the top three. With such a spectacular win, the third of his short career, it's clear that the future of Formula 1 is good and very quick hands.
Behind Vettel Esteban Ocon was fifth for Force India with Williams' rookie Lance Stroll delivering another impressive drive to finish sixth. Local hero Sergio Perez was seventh while Kevin Magnussen, Lewis Hamilton, and Fernando Alonso completed the top ten. It was difficult day for Renault as both Sainz and Hulkenberg were forced into retirement alongside Ericsson, Hartley, and Daniel Ricciardo who suffered a MGU-H failure on the Red Bull.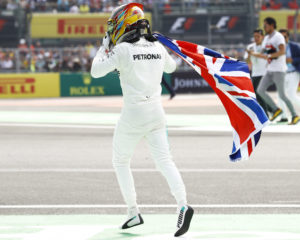 There will be some who say that Hamilton's 2017 victory in the driver's championship eventuated only because of Ferrari's unreliability but it simply isn't the whole story. While a driver can only be as good as his car the Mercedes hasn't been the quickest car this year on several occasions. But still Hamilton's relentless ability to churn out performances, especially in qualifying, is admirable and what has won him another world title.
Expectedly, questions of whether he can or should be considered one of the greatest drivers of all time will abound. But it's a difficult question to answer given how the sport and its drivers have transformed in its six decades of existence. There likely isn't a definitive answer to this question, which will probably always boil down to personal opinion. But what is indisputable is the fact that Lewis Hamilton is easily one of the best drivers of his generation. Hamilton's championship triumph also means that he stands alone as the only British driver with four titles. Take a bow Lewis Hamilton.
All images courtesy of Pirelli Motorsport