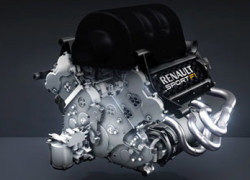 Renault Sport F1's managing director Cyril Abiteboul says that the controversial Formula One engine token system is set to be scrapped in 2017.
In return for reducing the cost of power units for customer teams by 2017 the engine manufacturers will be allowed more freedom to develop. Drivers would still be limited as far as the number of engines they may use per season and penalties would be enforced for those who exceed that limit which should keep the amount of updates a team introduces during the course of a season down to a reasonable number.
Abiteboul hopes that the change will make engine regulations easier for fans to understand also also allow other teams to catch up with Mercedes, ending their absolute dominance on the grid.
"The token system is being removed," Abiteboul was quoted as saying.
"One of the reasons we have all agreed to do this is that we all need the performance of the engine to converge. An F1 that is dictated by the performance of the engine is not good for anyone.
"You see it is not good for Mercedes, it is not good for Renault, Ferrari – we all have interest to change that. We have decided, also for the public, to stop the public being confused between the penalty system, the token system – we have decided to simply remove the token system."
The 2016 F1 season however will still engine see manufacturers restricted to 32 development tokens over the course of this season – the same as for the 2015 season.