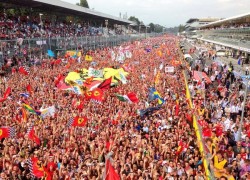 The world of F1 always dishes up a good deal of speed, fun, scandal and every now and then, a bit of booing. Reynard Gelderblom sent us his thoughts on the last week in F1.
Even though the 2013 Italian Grand Prix in itself wasn't the most exciting F1 race of the season, the entire week at Monza proved to be one of the most interesting. Usually at this point in time I'd have expressed my point of view on one big issue relating to Formula 1, this time I'll touch on a few.
First off, you can't call yourself a F1 fan if just the mere thought of the Italian GP doesn't bring a shivering sense of anticipation to you. One of the most historic circuits in the country known for Ferrari and the beyond-fanatical support for the manufacturer. Regardless of where your allegiance lies, everyone loves the tifosi – the loyal fraternity of the Prancing Horse.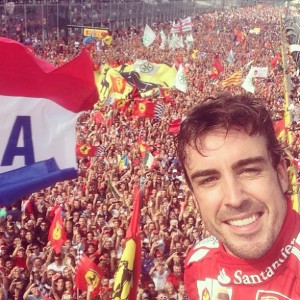 During the podium celebrations at the Italian GP I would admit that I lost some respect for some of them. Regardless of the fact that the budget for one F1 season is probably greater than that of some developing countries per annum, it's still and always will be a sport. There is no place for "booing" in sport.
My message to those tifosi: Your man Fernando Alonso was never in contention for the victory during the race. It wasn't a close fight to the flag – it was Sebastian Vettel showing dominance. Stand up and salute the victor or sit down and shut up if you can't be real sportsmen.
I live in Cape Town and that sort of behaviour is the exact reason why Western Province rugby and cricket fans are considered the most unsportsmanlike supporters this side of hemisphere. By the way the first place goes to the fans of Galatasaray Football Club.
And, did anyone notice how visibly disgusted Mark Webber looked with his team mate's win? Yes, we all know that he's still sour about the Malaysian GP when Vettel passed him despite team orders, but go ask anyone in the nearby fashion capital Milan, and they'll tell you: "There's never a reason to walk around looking like last month's jug of milk in the back of the fridge".
Let's dish out a good award here as well though…
The set of brake pads for the fastest driver of the week goes to…. Felipe Massa. If he ever enters a head-to-head fastest tweet competition, his opponent should be playing off a handicap. Massa was just a tad eager to announce his departure from Ferrari after 2013 on the social network platform, Twitter.
Eeeaasy there son, save that speed for the Sunday race – and I don't mean on the way to the race. The Brazilian of course also made the news for a speeding ticket he collected on route to Monza on Sunday morning.
Given the amount of booing Vettel received for beating Alonso in the race, I wouldn't have wanted to be the traffic cop involved when he went back to the office saying "Hey guys, I just booked a Ferrari F1 driver, in a Ferrari, on the Sunday of the Italian GP for speeding on the way to Monza".
Be sure that I will be watching Twitter to see if any of the reporters I'm following are tweeting something about a traffic cop facing treason charges.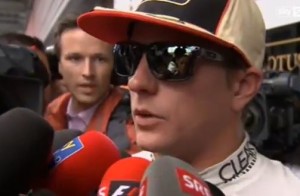 And still at Ferrari: Out with the old… in with the… eh old. Kimi Raikkonen has finally been confirmed as Fernando Alonso's team mate for 2014.
I'm certainly looking forward to this and I'm sure now that the Iceman has picked his spot, the rest of the F1 paddock can now continue their game of F1 musical chairs to decide who drives what. Something I would like to mention though: Remember Senna and Prost at Mclaren in 1989, Alonso and Hamilton at McLaren in 2008?
Alonso is no one's No.2 and Raikkonen is certainly not going to be anyone's either – and there can only be one No.1. Alonso doesn't play well with others and Raikkonen plays at his best on his own. While I'm sure that Vettel is picking a hairstyle to celebrate his fourth World championship already, I'm looking forward to the hair flying at Ferrari in 2014.
And a final note: This article goes out to the person who asked me recently "How can you sit and watch anything as boring as F1?" No name calling here… Too many people called each other idiots at Monza.
Reynard Gelderblom is the motorsport editor for Street Motion.
Keep up to date with the latest local motorsport news by following Street Motion on Twitter.

Photo Credits:
Tifosi from the podium – Fernando Alonso (Twitter)
Alonso selfie – Fernando Alonso (Twitter)
Kimi Raikkonen – F1 Madness screengrab