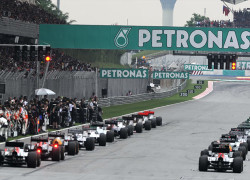 In the lead up to any new Formula 1 season speculations is rampant as to who has designed and built the quicker car. Beyond what the factories can deliver the expectations for drivers to perform are equally demanding and important.
For some drivers the pressure to perform is exponentially more than others. In fact, their F1 careers depend on it. In 2018 especially there are a handful of drivers that will need to up their game if they're going to take the next step up in the careers or even remain in the sport.
Romain Grosjean
The Frenchman's first foray into F1, with Renault, was a baptism of fire and he quickly disappeared back to GP2, now F2. He impressed by winning the GP2 title and found his way back into F1. However, while he was quick at the then Lotus team it was marred by several crashes and a subsequent ban from the Italian grand prix.
He bounced back and refined his race craft, which thrust his undoubted speed to the forefront. His time at the Haas F1 team started brilliantly as he took the American team to heights previously unimaginable for a new team. However, his last season was tarnished by brake issues and painted him as a bit of a moaner. Still, there is little doubt that if Haas can deliver the car Grosjean will deliver the speed and the points.
But if Grosjean has an eye on a seat at any of the front-running teams he needs to deliver in the car this season. Should a Lance Stroll or the newly announced Sergey Sirotkin not perform Grosjean would be a perfect fit for the Williams team.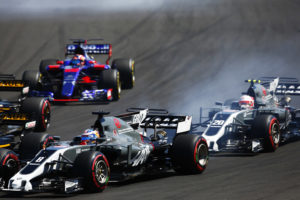 Kevin Magnussen
It's rather difficult to be sold on whether Magnussen has the potential to be great. His debut season with McLaren was a forgettable one and he hasn't been setting the world alight in either a Renault or his current Haas.
In fact, he's so far under the radar his name is never mentioned in relation to the top teams in the sport. The likelihood is that he'll probably have a driver in 2019 but unless he blows away teammate Grosjean this season it's highly unlikely that it'll be at a top team.
 Marcus Ericsson
Swedish driver Ericsson has been far from impressive in his F1 career. There is no denying that his presence on the 2018 grid is due to the fact that the Sauber team is now owned by Longbow Finance who count several Swedish investors amongst their ranks.
It remains to be seen how long the investors will keep backing Ericsson who hasn't done much to show any sort of potential. He'll be up against rising star Charles le Clerc too in 2018. If he doesn't summarily outperform the youngster it could be the end of Ericsson's F1 career.
Nico Hulkenberg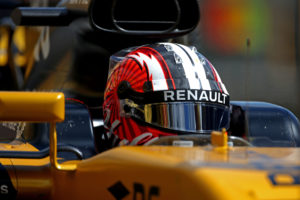 The German driver has been rated for many season in F1 and has won the 24 hours of Le Mans on his first try. Still a top driver eludes Hulkenberg and for good reason. While he is a solid driver his reputation suffered at Force India as he rarely got the better of teammate Sergio Perez.
In 2018, he's alongside Carlos Sainz Jr, one of the hottest prospects in the sport. Given that he's been in F1 for a number of years 2018 is an important season for Hulkenberg if he's ever going to make his mark in the sport.
 Stoffel Vandoorne
The Belgian driver has had a tough go of it with a Honda powered McLaren and the fact that he shares a garage with Fernando Alonso, one of the best in the business. While Vandoorne isn't as pressed for time as a Nico Hulkenberg he does need to show his capabilities sooner rather than later.
There were glimpses in 2018 of his speed and he's certainly consistent. And out-performing a driver of Alonso's caliber will guarantee automatic recognition.