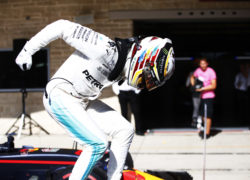 If Sebastian Vettel's chance of winning the 2017 driver's title were slim going into the United States grand prix they've now all but evaporated. Lewis Hamilton delivered a controlled drive to not only win in Texas but also ensure Mercedes as the 2017 constructor's champions.
Despite Hamilton's 72nd pole position Sebastian Vettel tried his damnedest to reduce the points gap. While the Ferrari driver had good pace it wasn't enough to keep Hamilton at bay who retook the lead and built a solid gap of around four seconds before the first round of stops.
It was Ferrari and Vettel who opted into the pitlane first in the hopes that a few laps on fresh tyres could see the jump Hamilton and it nearly worked too. Hamilton and Vettel went wheel-to-wheel as he exited the pitlane with Mercedes holding onto the lead by his fingernails.
Bottas, Ricciardo, and Raikkonen had been keeping a watching brief behind the championship protagonists while involved in their own exhilarating scrap for the final podium position. Unfortunately, Ricciardo's challenge was felled by an engine problem that ultimately forced his retirement from the race.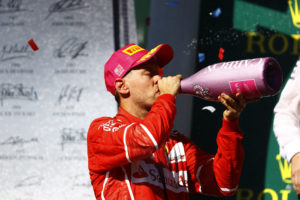 His Red Bull teammate however was scything the field at an impressive rate. Verstappen, who'd started sixteenth due to power unit penalties, had taken as others dived into the pitlane. By the time he completed his own stop for new tyres he emerged fifth overall. Stuck a bit in no man's land Red Bull opted for another stop and with thirteen laps to go fitted a fresh set of supersoft tyres. Vettel, with not much to lose, opted for the same strategy in the hopes of pulling off a spectacular comeback.
This promoted Bottas to second with Raikkonen on his gearbox. The Ferrari driver snatched second with an impressive move on the back strait and promptly moved over for a flying Vettel on fresh rubber within the next few laps.
Similiarly, Verstappen new tyres was allowing him to lap more than a second faster than Bottas and Raikkonen. He took fourth around the outside of Bottas with five laps to go and proceeded to stalk the back of Raikkonen's Ferrari who was now on 38-lap old soft tyres. Verstappen's eventual dive down the inside of Raikkonen in the final sequence of corners got him third across the line but he'd done so illegally. From replays it was evident that Verstappen had all four wheels beyond the track limit while overtaking Raikkonen. Race stewards deemed that he gained an advantage by cutting the track and awarded him a five second penalty that re-installed Raikkonen to third.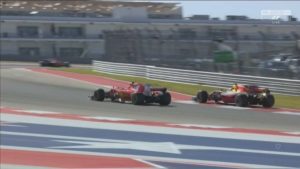 There likely isn't a Verstappen fan on the planet that wouldn't bemoan the penalty. However, while his driver was enormously impressive and exciting the penalty was rather cut and dried. Elsewhere Valtteri Bottas finished a distant fifth after a late race pitstop nearly a minute ahead of Force India's Esteban Ocon in sixth. Carlos Sainz impressed with a tremendous seventh place in his first race for Renault while Sergio Perez, Felipe Massa and the returning Daniil Kvyat rounded out the top ten.
The happiest of the lot was undoubtedly Lewis Hamilton who not only took career win number 62 but also a definitive step towards a fourth world title. As F1 heads across the border to Mexico this weekend Hamilton needs only to finish fifth or higher to become the 2017 drivers champion.