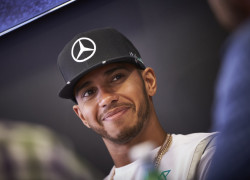 Lewis Hamilton topped the second free practice session ahead of the Spanish grand prix.
The Mercedes driver quickest time of 1:20:802 was 90 thousands of a second quicker than his teammate Valtteri Bottas in seconds. The two Ferrari's of Kimi Raikkonen and Sebastian Vettel were third and fourth quickest with Raikkonen three tenths off the quickest time. The Red Bull's of Daniel Ricciardo and Max Verstappen rounded out the top five.
Conditions around the circuit de Catalunya seemed tricky as intermittent gusts of wind upset the cars in several corners. In addition, the compounds nominated by Pirelli, medium and soft, seemed difficult to keep within the optimal operating temperature.
A brief red flag period was experienced as debris from Carlos Sainz's Toro Rosso was collected in turn 10. Nevertheless, when running got underway it was Mercedes who appeared to have the upper hand in long run simulations. At Ferrari it was Raikkonen who appeared to have a few tenths in hand over teammate Sebastian Vettel. While Friday's long run simulations appear deceptive it does appear as if Mercedes are ahead by a few tenths of a second.
Final Free Practice 2 Standings: